Posted on 7/19/2016 5:35:00 AM.
With the recent attacks on police in Dallas and Baton Rouge, there are some who are struggling with how to mentally handle these senseless tragedies. Medical Director at the Capital Area Human Services Dr. Aniedi Udofa says it's easy to feel guilty, helpless and scared about what might happen next. She advises finding a trustworthy friend if you are having trouble coping.
More
BRShooting, ambush, police, Capital Area Human Services, Aniedi Udofa
---
Posted on 8/27/2015 11:49:00 AM.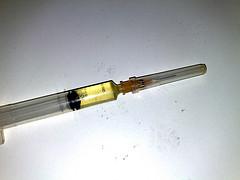 The East Baton Rouge Coroner's Office and Capital Area Human Services are teaming up to raise awareness about the growing heroin and synthetic marijuana problem in the area. Coroner Dr. Beau Clark says his office has already seen 24 heroin overdose deaths so far this year. He says the message of this campaign is clear.
More
East Baton Rouge Coroner, Capital Area Human Services, Beau Clark, heroin, synthetic marijuana
---