Posted on 1/6/2017 12:02:00 PM.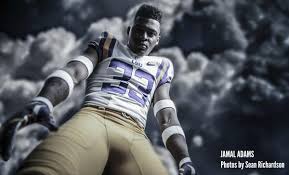 LSU All-American Safety Jamal Adams announces he's skipping his senior season and entering the NFL draft. Adams held a press conference Friday morning to thank all of those who helped him become a likely first-round draft choice. Adams was emotional when talking about his parents.
Jamal Adams, NFL draft, Les Miles, Leonard Fournette, Davon Godchaux
---
Posted on 9/26/2016 7:12:00 PM.
LSU in
ter
im head coach Ed Orgeron promises changes to LSU's offense. The Tigers rank dead last in the SEC in passing and 12th in the league in total offense. Orgeron says they want t
o spread the ball around and make the passing game more dynamic.
LSU, Ed Orgeron, Davon Godchaux, passing game
---
Posted on 9/15/2015 4:48:00 PM.
Based on what happened in the Mississippi State game, it appears LSU will have more success rushing the passer this season. The Tigers D-line only had 10 sacks in 13 games last season, but in the season opener, LSU's defensive line recorded three sacks. One of the sacks was by new starting defensive end Lewis Neal
.
Ed Orgergon, LSU, defensive lien, Auburn, Lewis Neal, Tashawn Bower, Davon Godchaux, Arden Key
---
Posted on 7/28/2014 4:54:00 PM.

Two freshmen LSU defensive linemen have received misdemeanor summons for separate incidents they were involved in. Trey Lealaimatafao reportedly stole a bicycle from a rack outside of Middleton Library. The alleged offense occurred on July 1st and campus police say there's surveillance video showing the Texas native taking the bike.
More
LSU, Davon Godchaux, Trey Lealaimatafao
---