Posted on 8/15/2017 5:45:00 AM.
Members of Louisiana's Congressional delegation and the governor toured Denham Springs with HUD Secretary Dr. Ben Carson Monday, and praised him for efforts in cutting red tape during flood recovery. Carson says he is very pleased and impressed with the progress south Louisiana has made since last August.
More
Ben Carson, Denham Springs, The Great Flood 2016
---
Posted on 8/14/2017 12:43:00 PM.
Michelle Southern reporting.
US Department of Housing and Urban Development Secretary Ben Carson is touring Denham Springs today, one year after the majority of the city was under water in the August 2016 floods. He is slated to be with Mayor Gerard Landry who said on Talk Louisiana memories of the devastating event are something no resident in the Livingston Parish city will ever forget.
Denham Springs, Great Flood of 2017, Ben Carson, Gerard Landry, Livingston Parish
---
Posted on 3/2/2017 10:17:00 AM.
A Denham Springs teen has died after being hit by a vehicle on his way to school. Police Chief Shannon Womack says the name of the juvenile has not been released. He says they received a call reporting the incident a little after 7 a.m.
More
Shannon Womack, Denham Springs, Cockerham Road
---
Posted on 12/27/2016 10:16:00 AM.
A Denham Springs woman has been arrested for allegedly selling fake driver's licenses to illegal immigrants. Denham Springs Police Chief Shannon Womack says the investigation began after an illegal alien was pulled over in a traffic stop on December 20th.
More
Shannon Womack, Criselda Meraz, Denham Springs,
---
Posted on 11/24/2016 1:58:00 AM.
Thanksgiving is different this year for flood victims still displaced after the August flooding. Denham Springs Mayor Gerard Landry says 80% of the homes and businesses in their town had flood damage. He says it's a struggle for homeowners to find qualified workers to fix up their homes and repairs are expensive.
More
The Great Flood 2016, Denham Springs, Gerard Landry, flood, Thanksgiving
---
Posted on 10/3/2016 11:58:00 AM.
Michelle Southern reporting.
Hundreds of Denham Springs residents in Livingston Parish who flooded in August could be forced to elevate their homes. Mayor Gerard Landry says about 1200 residents were informed by mail over the weekend that initial FEMA assessments show the structure was "substantially damaged" by the flood.
denham springs, FEMA, #laflood, gerard landry, elevate
---
Posted on 9/9/2016 3:14:00 AM.
The mayors of Walker, Central and Denham Springs will testify before Congress today in Washington DC on the federal response to the historic flooding. Denham Springs Mayor Gerard Landry says he will voice concerns that many residents who suffered flood damage may have to either tear down their home or raise their house under FEMA guidelines.
More
Walker, Denham Springs, Central, FEMA, Gerard Landry, The Great Flood 2016
---
Posted on 8/19/2016 11:58:00 AM.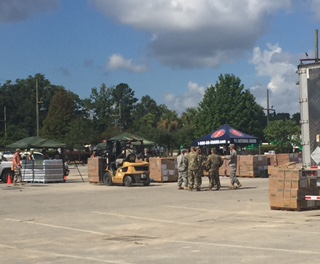 Many flood victims gathered today at Bass Pro Shop in Denham Springs to receive water and food, as well as, meet with FEMA representatives to apply for disaster assistance. Terry is a Denham Springs resident whose home was flooded during the storm. He says he lost two trailers and a truck but is lucky to be able to stay with his daughter in her home.
More
Bass Pro Shop, Denham Springs, Livingston Parish, FEMA, The Great Flood 2016, Travis Jenkins
---
Posted on 1/13/2016 12:37:00 PM.
Michelle Southern reporting.
A Denham Springs gas station owner is under arrest for allegedly selling a dangerous synthetic drug at the store, which caused two high school students to overdose. 36-year-old Essam Farhat faces 228 counts of possession with intent to distribute. Denham Springs Police Det. Glenn Lemoine says undercovers went in and bought the drug then later executed a search warrant.
synthetic drugs, juicy, denham springs, overdose, essam farhat, glenn lemoine, denham springs police department
---
Posted on 11/20/2015 10:46:00 AM.
A 26-year-old Denham Springs man will spend the rest of his life in prison for shooting up his fiancee with heroin, causing a fatal overdose. An East Baton Rouge Parish jury found Jarret McCasland guilty of second-degree murder, which carries a mandatory life sentence. District Attorney Hillar Moore says a seldom used statue was used in his case
.
Jarret McCasland, Flavia Cardenas, heroin, overdose, Hillar Moore, Denham Springs
---
Next Entry