Posted on 3/30/2018 10:42:00 AM.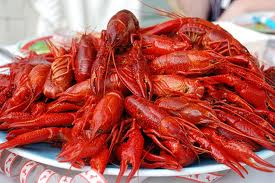 After a slow start, the crawfish supply is ready to match the Easter weekend demand. Freezing temperatures in January temporarily halted production, but LSU Crawfish expert Doctor Greg Lutz says the mudbugs have bounced back
.
"Once this weather warmed up for us and the ponds got warm, a lot of these crawfish really started to eat," Lutz said.
crawfish, Greg Lutz, weather, ponds, Easter
---
Posted on 4/14/2017 10:16:00 AM.
With Easter coming a few weeks later this year, holiday spending is expected to reach record highs. Anna Serafin Smith with the National Retail Federation says their annual survey finds 80% of consumers will celebrate Easter, spending a record total of over $18 billion. That's a 6% increase over last year.
More
Anna Serafin Smith, National Retail Federation, Easter
---
Posted on 4/14/2017 6:38:00 AM.
Ponchatoula-based Elmer's Chocolate continues to be an Easter tradition. CEO Rob Nelson says this year they brought back the Double Nut Gold Brick Fudge just in time for the holiday. He says even though Elmer's brought back a fan favorite from years ago, it's not the most popular item in the Easter basket.
More
Elmer's Chocolate, Easter, Rob Nelson
---
Posted on 4/2/2015 3:26:00 AM.
The Louisiana SPCA is encouraging folks to celebrate Easter responsibly and think before you buy live bunnies and chicks as pets. Spokeswoman Destinie Hammond says hundreds of rabbits are turned in to local shelters or released into the wild shortly after the Easter holiday.
Easter, bunnies, rabbits, chicks, louisiana spca, destinie hammond
---
Posted on 7/22/2013 8:23:00 AM.

The Louisiana Department of Wildlife and Fisheries says the body of a Sterlington fisherman has been recovered from the Ouachita River. Spokesman Adam Einck says agents were on regular patrol of the river on Friday when 42-year-old Jeffrey Easter's boat was found lodged in a submerged treetop.
More
adam einck, louisiana department of wildlife and fisheries, easter
---