Posted on 6/24/2016 10:51:00 AM.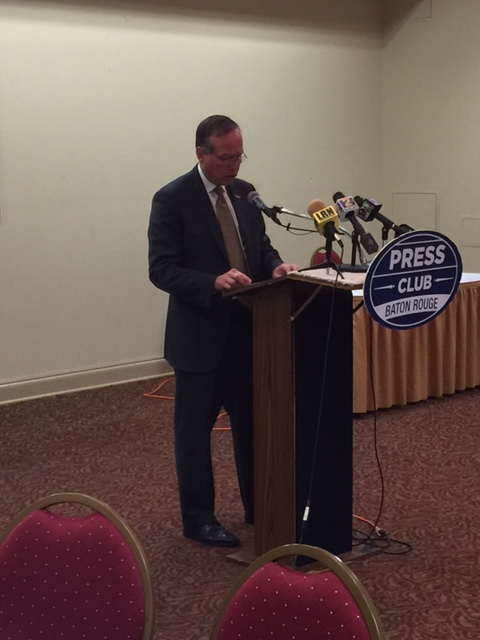 Lawmakers failed to raise enough revenue in the special session to fully fund the TOPS scholarship program. However, in the final minutes, an amendment was added that means TOPS students would get all of their tuition paid in the fall semester, but they would have to pay about 60% of it in the spring semester. LSU President F King Alexander doesn't think this is fair to students or their parents.
More
F King Alexander, LSU, TOPS,
---
Posted on 2/29/2016 3:59:00 PM.
Discussion about deep budget cuts to higher education could mean fewer students at LSU. The TOPS Scholarship Program is only funded at 25% for the next school year. Without TOPS, many students may have to rethink their education plans. LSU President F. King Alexander is concerned about enrollment numbers dropping because of budget concerns in Louisiana.
More
LSU, F King Alexander, budget crisis
---
Posted on 6/10/2015 5:49:00 PM.
Lawmakers have until 6 PM Thursday to approve a budget for next fiscal year and pass revenue generating bills to stave off large cuts to higher education and health care. Senate Finance Chairman Jack Donahue says legislators also need to pass a tax offset to prevent Governor Bobby Jindal from vetoing several tax bills.
Louisiana legislature, Jack Donahue, F King Alexander, budget, cuts
---
Posted on 1/22/2014 11:12:00 AM.
Higher education leaders are pleased to hear Governor Jindal is proposing to increase state funding for Louisiana's colleges and universities. Jindal's proposed budget for next fiscal year will contain a 142-million dollar funding increase to higher ed. LSU System President F. King Alexander says after six years of budget cuts its welcomed news.
F King Alexander, Sandra Woodley, LSU, University of Louisiana system
---
Posted on 1/14/2014 5:48:00 PM.
LSU's 6-year graduation rate has increased to an all time high of 69.1 percent. LSU President and Chancellor F. King Alexander says it's great to see positive progress... not only in the graduation rate but the 6,093 degrees awarded during the 2012-13 academic year is second highest in university history.

LSU, F KIng Alexander
---
Posted on 7/27/2013 7:21:00 AM.
LSU President and Chancellor F. King Alexander says he hopes the pay raises they are able to grant their faculty and staff will be a sign of good things to come in the future. It was announced Friday that employees in the entire LSU System will see an increase for the first time in four years.
More
f king alexander, lsu president, pay raises, higher education
---