Posted on 4/11/2018 11:07:00 AM.
Senator John Kennedy wants to hold Facebook and its CEO Mark Zuckerberg accountable for any breach in privacy. He is testifying before House Energy and Commerce Committee about a data breach affecting as many as 87-million Facebook users by a data firm with ties to President Trump's campaign. Kennedy says any trust that users placed in Facebook is no more after this incident.
Facebook, Mark Zuckerberg, Senator John Kennedy, data breach
---
Posted on 12/5/2017 11:41:00 AM.
Facebook plans to launch a new app for kids so they can message their friends with the approval of their parents. It's called Messenger Kids and is aimed at children under 13 who aren't legally allowed to have real Facebook.
More
Facebook, LSU, Lance Porter, Messenger Kids
---
Posted on 8/2/2017 2:03:00 PM.
In Acadia Parish, The Estherwood Assistant Police Chief has resigned from his position after posting racist remarks on his personal Facebook page. Police Chief Ernest Villejoin says he immediately called Wayne Welsh when he was notified and Welsh admitted to making the posts. He says this is no reflection of the police department and Welsh has publicly apologized.
More
Wayne Welsh, Ernest Villejoin, Facebook, Estherwood, Acadia Parish
---
Posted on 6/7/2017 12:32:00 PM.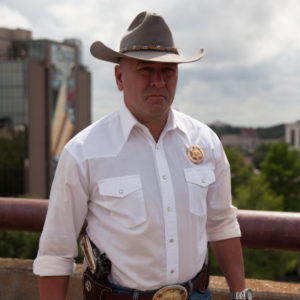 Congressman Clay Higgins stands by his controversial Facebook post saying all conceivable means must be taken to hunt down radical Islamic terrorists. He says in the post not a single radicalized Islamic suspect should be granted any measure of quarter. The Republican from St. Landry Parish says probable cause could result in search warrants that could lead to an arrest.
More
Clay Higgins, terrorists, Facebook, radical Islam
---
Posted on 6/5/2017 5:44:00 PM.
Southwest Louisiana Congressman Clay Higgins says every conceivable measure should be taken to hunt down radical Islamic terrorists. The Facebook post in response to the weekend London Attack adds "For the sake of all that is good and righteous, kill them all." UL-Lafayette political science professor Pearson Cross says Higgins could face backlash from moderate constituents, but it shouldn't be a concern for the man known as the Cajun John Wayne.
More
Clay Higgins, Pearson Cross, terrorists, Facebook
---
Posted on 5/5/2017 10:34:00 AM.
A Zachary man has been arrested after making threats against law enforcement on Facebook. The post referenced the DOJ's decision not to bring forth charges against the officers involved in the Alton Sterling case, saying "It's time Baton Rouge u didn't learn from the police killing." State Trooper Bryan Lee says State Police was informed about the post made by 38-year-old Thallemus Thomas.
More
Bryan Lee, Thallemus Thomas, BRPD, Facebook
---
Posted on 2/6/2017 6:29:00 AM.
Are you sick of seeing political posts on Facebook? There's an app for that. Matt Kruse developed the app Social Fixer. He says right now it's only available for desktop browsers, but he's working to develop a mobile version. He says the plug in is easy to use once you download it at SocialFixer.com.
More
Matt Kruse, Social Fixer, Facebook, politics
---
Posted on 1/15/2016 1:03:00 PM.
A Mississippi man has been arrested for aggravated animal cruelty after posting on Facebook a picture of a dog he shot and killed, allegedly in Washington Parish. Brent Jones with the Sheriff's Office says during the investigation they discovered the shooting happened in Clifton, Louisiana. He says Todd Hammond was questioned after they received multiple tips and officers saw his online post.
More
Todd Hammond, Washington Parish, dog, Facebook, Brent Jones
---
Posted on 9/17/2015 2:44:00 AM.
Michelle Southern reporting.
So why are Facebook users so excited about the social media site possibly getting a "dislike" button? Co-founder Mark Zuckerberg announced this week that they are working on a tool that will allow people to show empathy for posts, but it's not clear if it would actually be called a "dislike" button.
facebook, Mark Zuckerberg, Jensen Moore
---
Posted on 2/15/2015 3:52:00 PM.
A new Facebook option allows users to designate a friend or family member to oversee their account upon their death. Facebook's Legacy Contact feature lets users choose someone to manage their account after they die.
More
Facebook, Legacy Contact, Jensen Moore, social media
---
Next Entry