Posted on 8/27/2017 3:56:00 AM.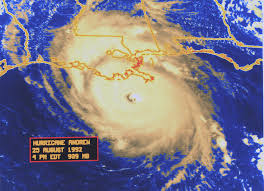 Twenty-five years ago today, many Louisianans were dealing with the wake of destruction left by one of the most devastating storms in US history. Hurricane Andrew caused flooding and spawned tornadoes across south Louisiana after making landfall near Morgan City on August 26. Mayor Boo Grizzaffi recalls waking up to the wreckage.
More
Boo Grizzaffi, Morgan City, Hurricane Andrew, hurricane
---
Posted on 8/24/2017 4:23:00 AM.
Twenty-five years ago today one of the most destructive hurricanes in U.S. history made landfall in Florida and then crossed the Gulf of Mexico and made landfall near Morgan City. Former WAFB Meteorologist Mike Graham was working at the Baton Rouge TV station and remembers the anxiety as the storm took aim on Louisiana
.
Hurricane Andrew, Edwin Edwards, Georgia H.W. Bush, Louisiana, St. Mary Parish, WAFB, Mike Graham
---