Posted on 2/2/2018 4:53:00 AM.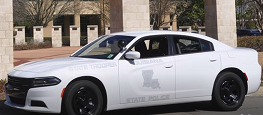 Starting this month, Louisiana State Police will add Dodge Chargers to their fleet with a twist. Some of the new vehicles will be fully marked, while others will be semi-marked and a few will not be marked at all.
Lt. J.B. Slaton says the new less visible vehicles will allow Troopers to blend in with traffic and stop drivers who are reckless.
More
Louisiana State Police, JB Slaton, Dodge Chargers
---
Posted on 10/21/2015 11:34:00 AM.
The Louisiana Office of Motor Vehicles has mailed 1.2 million letters to drivers with lapsed insurance warning them that a collections agency could be used if their fines of up to $525 go unpaid. A new law allows the office to send solicitations in an effort to collect money through the Office of Debt Recovery.
Louisiana, Office of Motor Vehicles, OMV, car insurance, fines, JB Slaton
---
Posted on 8/6/2015 10:27:00 AM.
The State of Louisiana will soon begin to reshuffle the letters and numbers on new license plates. Officials say they're are running out of combinations to use in the current configuration of three letters followed by three numbers.
Louisiana, license plate, JB Slaton
---
Posted on 7/6/2015 11:04:00 AM.
Same-sex couples who want to change their last name on their driver's license to reflect the same name as their spouse can do so starting today. State Police Lt. JB Slaton says the Office of Motor Vehicles had to upgrade their computers so they can change a man's last name.
JB Slaton, Office of Motor Vehicles, same-sex couples, last name
---
Posted on 4/14/2015 10:21:00 AM.
Covington Representative Paul Hollis had a pretty rough first day of the legislative session. Hollis was driving his car through a parking lot at the Capitol when the new security system went off and two bollards shot up from the ground through the front of his car.
Paul Hollis, Louisiana, State Capitol, security system, JB Slaton
---
Posted on 12/15/2014 12:00:00 PM.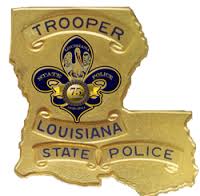 State Police say a Louisiana Department of Public Safety officer is charged with sexual battery and malfeasance in office following a traffic stop in Zachary. Michael Selders of Clinton was booked into the East Baton Rouge Prison.
More
Louisiana State Police, Louisiana Department of Public Safety, JB Slaton, sexual battery
---
Posted on 6/4/2014 1:24:00 PM.
Michelle Southern reporting.
Officials were called out in response to a fire around 11am this morning at the Westlake Chemical Plant in Geismar. Louisiana State Police Lt. JB Slaton says the blaze at the plant near the intersection of LA 73 and LA 30 in Ascension Parish was quickly contained.
More
westlake chemical, fire, JB Slaton, Ascension Parish, geismar
---
Posted on 11/21/2013 11:54:00 AM.
The East Baton Rouge Sheriff's office says the man who was involved in a shootout with officers early Thursday morning was wanted on numerous warrants from several agencies. He's been identified as 22 year old Jessie Gordon of Denham Springs and EBRSO says he shot and killed himself after the ordeal.

More
JB Slaton, Jessie Gordon, Doug Cain, East Baton Rouge Parish Sheriff's Office, State Police,
---
Posted on 9/27/2013 8:45:00 AM.
State Police say a drunk man who fled the scene of an accident on an Interstate in Baton Rouge, jumped the fence of the Governor's Mansion when he was trying to get away. LSP Sergeant JB Slaton says around 1am Thursday, the DPS Security guard at the Governor's Mansion noticed the suspect climbing the fence.
More
antonio moor, governor's mansion, state police, jb slaton
---
Posted on 7/2/2013 10:32:00 AM.
For the first time in five years, the Louisiana State Police will hold a training academy. Spokesman Sgt. JB Slaton says a new academy has been put on hold due to the state's money problems and the last cadet class graduation was in 2009.
More
louisiana state police, training academy, JB Slaton
---