Posted on 10/27/2016 3:32:00 PM.
The Saints passing game faces a major test this Sunday against Seattle. The Seahawks have become one of the best teams in the league, because of how they defend the pass. New Orleans Quarterback Drew Brees says Seattle's defense doesn't have a weak link.
More
Saints, Seahawks, Max Unger, Drew Brees, Jimmy Graham
---
Posted on 3/11/2015 11:57:00 AM.
Michelle Southern reporting.
The video of a 7-year-old girl's tearful reaction to tight end Jimmy Graham getting traded to Seattle has gone viral. The child, Lexia Woods, was devastated at what was one of the most surprising moves of the start of NFL free agency on Tuesday and her mother, Ashley Ann Woods, got it on the Facebook video below:
lexie woods, jimmy graham, ashley ann woods
---
Posted on 3/10/2015 5:32:00 PM.

The Saints have made a trade that will be talked for years to come as they've sent tight end Jimmy Graham plus a fourth round pick to Seattle for Seahawks center Max Unger and a first round pick in this year's draft. NFL Analyst Mike Detillier says Unger improves a Saints O-Line that has some holes in it.
Jimmy Graham, Max Unger, Reggie Bush
---
Posted on 10/31/2014 6:47:00 AM.
The Saints ended a seven-game road regular season losing streak by beating the Carolina Panthers 28-10 on Thursday night. The win gives New Orleans a 4-4 record, which is good enough for first place in the less than mediocre NFC South.
New Orleans Saints, Carolina Panthers, Drew Brees, Mark Ingram, Sean Payton, Jimmy Graham
---
Posted on 9/14/2014 4:01:00 PM.
Many Saints fans thought this was the year for the Black and Gold to get back to the Super Bowl. But New Orleans is 0-and-2 after suffering a heart breaking 26-24 loss to the Cleveland Browns. For the second straight game, New Orleans couldn't preserve a late lead. Coach Sean Payton says all they could do at this point is work on trying to become a better team.
More
New Orleans Saints, Sean Payton, Drew Brees, Mark Ingram, Jimmy Graham
---
Posted on 8/16/2014 7:33:00 AM.
The Sa
ints improved to 2-and-0 in the preseason with a 31 to 24 win over Tennessee last night
, but Coach Sean Payton was very upset about the 22 penalties called against his team.
More
Sean Payton, Saints, Titans, Zach Mettenberger, Jimmy Graham, Ryan Griffin, Luke McCown
---
Posted on 7/15/2014 10:49:00 AM.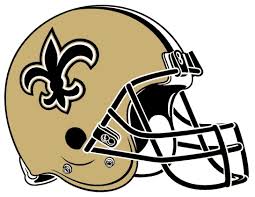 Michelle Southern reporting.
The New Orleans Saints and tight end Jimmy Graham have reached a deal. As first reported by ESPN, Graham will get $40 million dollars over four years with $21 million guaranteed. This is the richest deal in NFL history for a tight end. NFL analyst Mike Detillier says this amount of money is unprecedented.
More
new orleans saints, jimmy graham, mike detillier
---
Posted on 7/2/2014 11:54:00 AM.
The Saints have won the grievance hearing over whether Jimmy Graham should be franchised as a tight end or a wide receiver. Arbitrator Stephen Burbank has ruled Graham should be franchised as a tight end.
More
Jimmy Graham, Stephen Burbank, Saints, Mike Detillier
---
Posted on 6/17/2014 4:19:00 AM.
A grievance hearing over Saints' tight end Jimmy Graham's franchise-tag designation begins today. The Saints franchised Graham as a tight end in March, however the Pro Bowler feels he should be declared a wide receiver.
Jimmy Graham, Mike Detillier, grievance hearing, tight end
---
Posted on 2/28/2014 8:29:00 PM.
As expected
, the Saints have placed the franchise tag on Pro Bowl tight end Jimmy Graham. The move will keep Graham from becoming an unrestricted free agent later this month and it gives the two sides more time to work out a long-term contract.
If Graham and the Saints can't come to terms on a multi-year deal, Graham will be paid seven-million dollars in 2014 based on the tight end franchise tag.

Jimmy Graham, franchise tag, Greg Hardy, New Orleans Saints, Carolina Panthers
---
Next Entry