Posted on 10/3/2018 2:55:00 AM.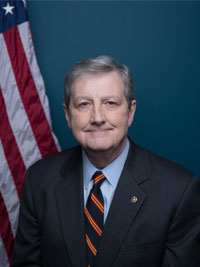 U.S. Senator John Kennedy files legislation that would prohibit the federal government from giving contracts to banks like Citigroup and Bank of America, who have decided to penalize or not do business with lawful pro-second amendment companies. Kennedy says these banks were not picky about whose money they were taking during the financial crash.
More
John Kennedy, Banks, Gun Control, legislation, congress, Louisiana, 2018
---
Posted on 9/28/2018 1:36:00 PM.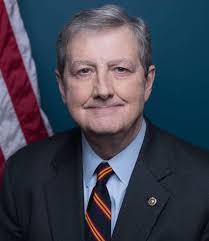 Brett Kavanaugh's nomination vote to the US Supreme Court advanced to the full Senate Friday, but the vote will be delayed until later in the week as the GOP whips for votes, and the FBI reportedly looks into the allegations. Senator John Kennedy says after hearing from both Judge Kavanaugh and the woman who accused him of sexual assault, Dr. Christine Blasey Ford, he's decided to support the judge's nomination.
John Kennedy, Karen Carter Peterson, Brett Kavanaugh, Christine Blasey Ford
---
Posted on 9/24/2018 6:43:00 AM.
The woman who has accused U.S. Supreme Court nominee Brett Kavanaugh of sexual assault in the 80s has agreed, along with Kavanaugh, to testify about the alleged incident Thursday. This comes after a weekend of negotiations between Dr. Christine Blasey Ford's legal team and judicial committee members.
Judge Brett Kavanaugh, John Kennedy, hearing. Christine Blasely Ford
---
Posted on 9/19/2018 11:04:00 AM.
U.S. Senator John Kennedy wants to hear from Christine Ford before deciding on whether to confirm Judge Brett Kavanaugh to the Supreme Court. Ford alleges Kavanaugh sexually assaulted her at a high school party in the 1980s. Kennedy sits on the Senate Judiciary committee and says a hearing is scheduled Monday, so the California professor can tell her story
.
John Kennedy, Christine Ford, sexual harassment allegation, Brett Kavanaugh
---
Posted on 9/7/2018 2:42:00 PM.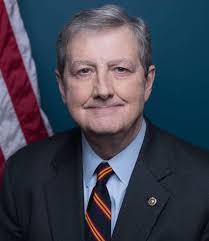 After four days of hearings, Louisiana Senator John Kennedy says he's ready to confirm Judge Brett Kavanaugh as the newest member of the US Supreme Court. Kennedy, who sits on the Senate Judiciary Committee, says that vote will occur later this month.
More
John Kennedy, Brett Kavanaugh, Supreme Court, Trump, 2018, Louisiana
---
Posted on 8/20/2018 5:20:00 AM.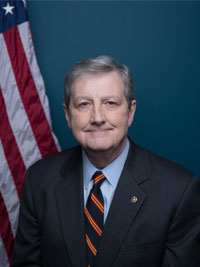 Senator John Kennedy says the 7-6 Bond Commission decision against allowing bids from banks who deny financing to certain gun manufacturers and sellers is a statement victory that will inspire similar efforts in other conservative states, and even Congress. Kennedy says the result has inspired gun rights leaders crafting their own plans for going after companies that push gun control.
More
John Kennedy, John Bel Edwards, Bond Commission, gun control, Citi Group, Bank of America, Louisiana, 2018
---
Posted on 8/10/2018 12:49:00 PM.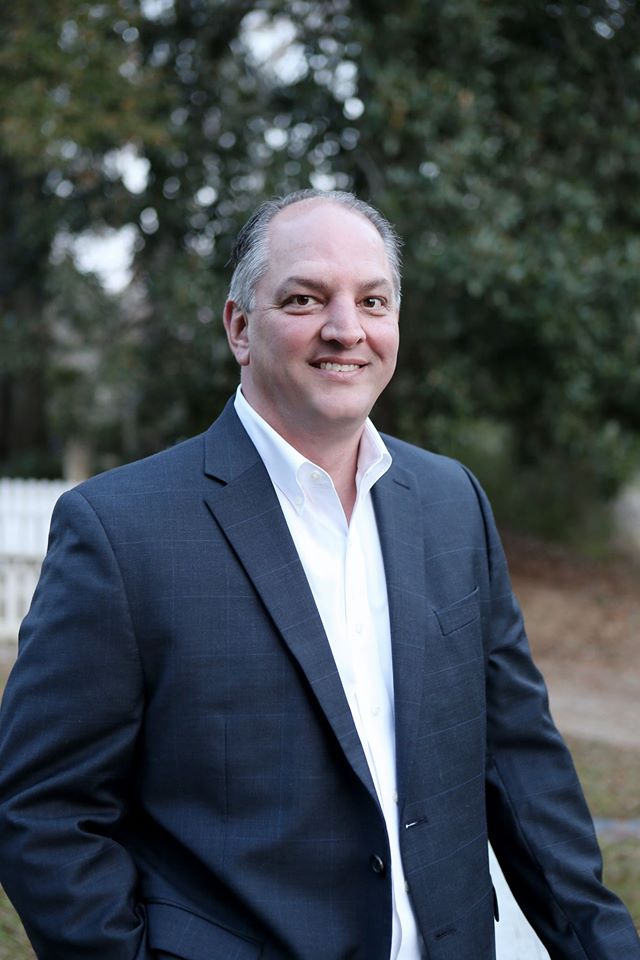 Governor Edwards is back in Louisiana after speaking with President Trump about criminal justice reform efforts. During an appearance on AM Baton Rouge on Talk 107-3, the governor defended what he called progress in reducing the state's inmate population. Edwards says the way the state used to lock up non-violent offenders wasn't working.
"We were spending seven hundred million dollars a year. We were not safer for it, we were locking up twice the national average in Louisiana and three times as many as Florida for nonviolent offenses but we have the same crime rate as Florida."
More
John Bel Edwards, Prison reform, Jeff Landry, John Kennedy, Ricky Babin
---
Posted on 8/7/2018 7:39:00 AM.
Governor John Bel Edwards will travel to New Jersey on Thursday to discuss criminal justice reform with President Donald Trump. Deputy Chief of Staff Richard Carbo says the invite comes a year after statewide reforms led to a promising reduction in prison population.
"They obviously have a plan to pursue some form of criminal justice reform on the national level and with Louisiana having been one of the most recent to enact these reforms, just want to get an idea on how we did it," Carbo said.
John Bel Edwards, Richard Carbo, John Kennedy, Jeff Landry, Donald Trump, criminal justice reform
---
Posted on 8/1/2018 7:41:00 AM.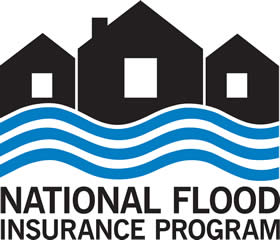 Congress has extended the National Flood Insurance Program for another four months. It was set to expire before midnight, but the Senate voted to keep it going. Louisiana Senator Bill Cassidy says he's not happy they settled for another short term fix, but it had to be done temporarily
.
Bill Cassidy, John Kennedy, flood insurance, 4 month extension, National Flood Insurance program
---
Posted on 7/24/2018 5:47:00 PM.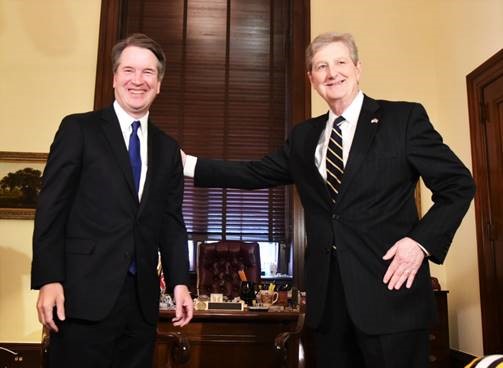 US Senator John Kennedy got a chance to sit down and talk with President Trump's Supreme Court nominee Brett Kavanaugh. The conversation stuck mostly to personal topics, as Kennedy said he was keen to get to know the man. The Senator says the two talked about family, teaching, and a LSU hero.
More
John Kennedy, Brett Kavanaugh, Supreme Court, Trump, 2018, Pistol Pete Maravich, Louisiana
---
Next Entry