Posted on 8/31/2018 2:04:00 AM.
Attorney General Jeff Landry is joining 15 other attorneys general and governors who are petitioning the US Supreme Court to shoot down workplace protections that would prevent transgender workers from being fired for being transgender. Louisiana Trans Advocates Board Chair Dylan Waguespack says the amicus brief is another anti-LGBT statement from the AG.
More
transgender, Jeff Landry, LGBTQ, workplace discrimination, courts, Louisiana, 2018
---
Posted on 8/28/2018 1:02:00 PM.
An organization is pushing the Lafayette Parish-City Council to take an official position on the upcoming Drag Queen Story time event at the city's public library. The "Citizens for a New Louisiana" petition states "the use of taxpayer funds to promote sexual deviancy to three-year-olds is shocking."
More
LGBTQ, drag queen, Louisiana, Lafayette, 2018, Drag Queen Story Time, Citizens for a New Louisiana, Lafayette Citizens Against Taxes, Michael Lunsford
---
Posted on 8/20/2018 5:22:00 PM.
In October the Lafayette Public Library will play host to a few drag queens who will be reading stories to kids about the importance of accepting classmates and their families who may come from non-traditional households. Its Drag Queen Story time, and it's rolling into town October 6th.
More
pride, LGBTQ, drag queen, Louisiana, Lafayette, 2018, Delta Lambda Phi, Drag Queen Story Time, Brad Parfait
---
Posted on 11/1/2017 3:12:00 PM.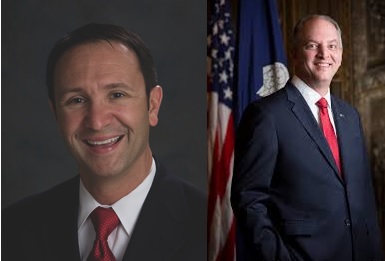 A three-judge panel of Louisiana's First Circuit Court of Appeal ruled against Governor Edwards' non-discrimination executive order that attempts to protect LGBT individuals who work for the state from harassment, discrimination or dismissal. The president of Louisiana Trans Advocates Dylan Waguespack says gays and transgendered people are discriminated in the workplace at an alarming rate.
More
Governor Edwards, LGBTQ, Court of Appeals, Jeff Landry
---
Posted on 2/2/2017 6:08:00 AM.
A gay rights activist group has responded to President Donald Trump's statement that he will not remove President Obama's executive order protecting the LGBTQ community from workplace discrimination within the federal government. Equality Louisiana President Baylor Boyd says at this point he is cautiously optimistic.
More
Baylor Boyd, LGBTQ, Equality Louisiana, President Trump
---