Posted on 5/24/2017 5:40:00 PM.
The search is over for a south Louisiana man accused of living in his ex-girlfriend's attic, as 21-year-old Taylor Broussard is behind bars. Brennan Matherne with the Lafourche Parish Sheriff's Office says the investigation began in Larose after a woman reported her ex had stolen her vehicle after brandishing a knife. He says state troopers located the suspect Wednesday.
More
Brennan Matherne, Taylor Broussard, Lafourche Parish, stalking
---
Posted on 5/23/2017 1:16:00 PM.
Michelle Southern reporting.
Authorities in Lafourche Parish are looking for a man who is facing several charges amid allegations including living in the attic of his ex-girlfriend for a period of time while stalking her. Sheriff's Office spokesman, Lt. Brennan Matherne, says cops responded to the home in reference to a disturbance involving 21-year-old Taylor Broussard.
Taylor Broussard, stalker, attic, Brennan Matherne, LaFourche Parish, Lafayette, Erath
---
Posted on 2/16/2016 12:03:00 PM.
Michelle Southern reporting.
A reward is now being offered for information about whomever stole a birdhouse from a residence in Lafourche Parish. Sergeant Brennan Matherne says they have surveillance video which shows an unknown female exit a vehicle from the passenger's side, walk onto the victim's property and remove the birdhouse.
birdhouse thief, lafourche parish, brennan matherne, gray
---
Posted on 11/13/2015 1:16:00 PM.
A three hour standoff between authorities and an armed man on a boat in Larose ended early this afternoon. Lafourche Parish Sheriff's Office Spokesperson Brennan Matherne says police responded to a call by a boat owner alerting them that an armed man, who didn't have permission, was aboard a boat docked along the Intracoastal Canal.
More
Lafourche Parish, Larose, Daniel Boudreaux, Brennan Matherne, standoff
---
Posted on 9/21/2015 10:37:00 AM.
The Lafourche Parish Sheriff's Office has arrested an Abbeville man accused of taking photos of a woman undressing in a Galliano department store fitting room. Spokesman Brennan Matherne says 52-year-old Aaron Merritt is charged with one felony count of video voyeurism.
video voyeurism, Galliano, Lafourche Parish, Brennan Matherne, Aaron Merritt
---
Posted on 12/29/2014 12:10:00 PM.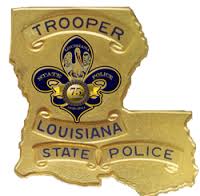 State Police say a single vehicle crash in Lafourche Parish claimed the life of an 18-year-old Galliano man. Trooper Evan Harrell says Evan Danos was a passenger in a vehicle that failed to negotiate a left hand turn on LA 1 and ran off the roadway and struck a tree on the passenger side of the vehicle.
More
Louisiana State Police, Evan Harrell, fatal crash, Lafourche Parish
---
Posted on 9/2/2014 9:43:00 AM.
Michelle Southern reporting.
Louisiana State Police say a pedestrian who they believe had been drinking was struck and killed last night in LaFourche Parish. Trooper Evan Harrell says the victim is identified as 26-year-old Jace Sevin of Lockport. He says a vehicle was traveling on North Service Rod in Raceland around 8pm Monday.
louisiana state police, evan harrell, jean claude pierre, jace sevin, raceland, lafourche parish
---
Posted on 3/14/2014 10:39:00 AM.
A Galliano women faces more than 10 felony charges after stealing money from an elderly man. Charlene Romero confessed to deputies she went into the man's home on multiple occasions and took money without permission. Lafourche Parish Sheriff's Office Spokesperson Brennan Matherne says it is unclear if Romero befriended the elderly man just to get access to his money.
More
Charlene Romero, Brennan Matherne, Lafourche Parish
---
Posted on 2/14/2014 1:00:00 PM.
Michelle Southern reporting.
A state judge in LaFourche Parish has ruled a Thibodaux man accused of killing his disabled son is NOT guilty by reason of insanity. Police say 32-year-old Jeremiah Wright cut off his son's head in August 2011 and left it in the yard for the child's mother to discover after work. District Attorney Cam Morvant says he can't argue against the ruling.
More
Murder, Insanity Plea, Lafourche Parish, Jeremiah Wright
---
Posted on 12/27/2013 5:59:00 AM.
Four people are dead, three others injured after a 38-year-old Houma man went on a shooting rampage. LaFourche Parish Sheriff's office spokesperson Brennan Matherne says the shooter, Ben Edward Freeman, died of a self-inflicted gunshot wound. Matherne says one of the victims is Susan Gouaux, the wife of LaFourche Councilman Phillip Gouaux.

Ben Edward Freeman, LaFourche Parish, shooting rampage
---