Posted on 7/9/2018 2:13:00 PM.
This past Saturday at UFC 226, the UFC Championship was defending in a fight that would see the title end up in the hands of a Lafayette native, Daniel Cormier. Cormier became only the second person to hold two UFC championships simultaneously, following Connor McGregor. Cormier describes the feeling of the victory.
More
David Cormier, UFC Championship, Lafayette
---
Posted on 7/9/2018 11:00:00 AM.
Got some suppressed aggression issues you need to alleviate? A new Broussard business might just be right in your wheelhouse. It's called All The Rage, and when there, customers can destroy old computers, dishes, and almost anything else. Owner Kevin Richard says there is a myriad of weaponry to express yourself.More
All The Rage Room, Lafayette
---
Posted on 4/26/2018 1:12:00 PM.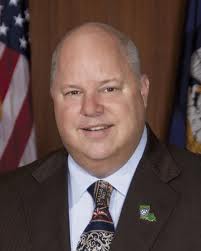 A woman is under arrest for allegedly stealing a horse, and selling it for $1,000 cash on the internet. 27-year-old Sarah Broussard of Scott was booked into the Lafayette Parish Jail on the charge of Theft of Property valued over $500. Ag Commissioner Mike Strain (pictured) says the buyer had no clue the horse was stolen.

"She used a false name to identify herself and advertise to sell a horse for sale on the internet," Strain said.
More
Mike Strain, cyber, crime, Lafayette, Agriculture Commissioner
---
Posted on 4/24/2018 2:12:00 PM.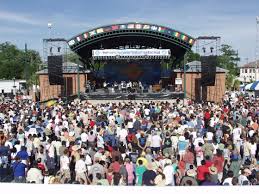 The largest international music fest in the United States begins tomorrow in Lafayette as Festival International de Louisiane starts a five-day fun that features music from over 20 countries. Marketing director Carly Viator says its free to attend.
Festival International de Louisiane, Lafayette, live music
---
Posted on 3/26/2018 12:41:00 PM.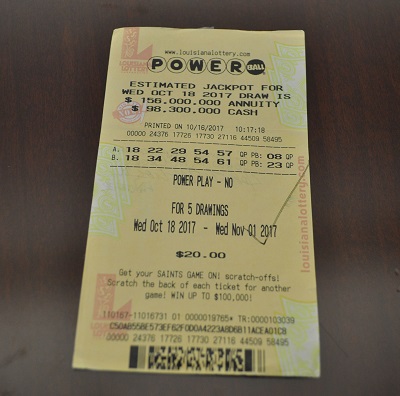 For the second time in five months, a winning Powerball jackpot ticket was purchased in Louisiana. The 55-million-dollar winning ticket from Saturday's drawing was sold at Tigers Touch Down 2 in Lafayette. Louisiana Lottery spokesperson Kimberly Chopin says Louisiana Powerball players are on a hot streak, but the Bayou State hasn't had that many winners over the last 23 years
"We joined Powerball back in 1995 and since then we've chalked up 17 Powerball jackpot winners," Chopin said.
Lafayette, Louisiana Lottery, Kim Chopin
---
Posted on 1/30/2018 1:52:00 PM.
Members of the Lafayette Cajun band The Lost Bayou Ramblers are back in Louisiana today after a couple of days of celebrating their Grammy in New York City. "Kalenda" won the group a gramophone for Best Regional Roots Music Album.
lost bayou ramblers, grammys, lafayette, andre michot, louis michot
---
Posted on 12/4/2017 5:02:00 PM.
Funeral arrangements have been set for a Lafayette icon. 99-year-old Judge Kaliste Joseph Saloom Jr. died over the weekend. Not only did he serve as a city court judge, he was a graduate of UL-Lafayette and visionary for Acadiana. UL-Lafayette President Joe Savoie says they not only lost someone who helped Lafayette reach it's potential, he was a walking encyclopedia on all things Ragin' Cajuns…
More
Judge Kaliste Saloom Jr., Lafayette, Ragin' Cajuns, UL-Lafayette
---
Posted on 9/5/2017 10:48:00 AM.
The daughter and babysitter of Lafayette Sheriff Mark Garber have been found safe after the two went missing in a canoe overnight. John Mowell with the sheriff's office says the 21-year-old Juliana Brooks took 7-year-old Cora Garber canoeing in the sheriff's pond, which is adjacent to a swamp.
More
Mark Garber, John Mowell, Juliana Brooks, Cora Garber, Lafayette
---
Posted on 9/3/2017 4:57:00 PM.
By Jeff Palermo
Based on data from the Louisiana Workforce Commission, 1.9 million people have a jobs in this state. That's an increase of 12,000 from a year ago. LSU economist Dr. Loren Scott says because of an industrial boom in Lake Charles and Baton Rouge, the construction sector is doing well.
Louisiana Workforce Commission, Loren Scott, Lafayette, Houma, Baton Rouge, Lake Charles, construction
---
Posted on 8/1/2017 11:51:00 AM.
As of today, smoking is no longer permitted in Lafayette bars. Robin McMillan owns McMillan's Pub in Lafayette, and she's afraid the new ordinance will affect her business since about 80 percent of her patrons are smokers. She says they may start going to other bars because the smoking ban is only within the city limits.
More
Robin McMillan, smoking ban, Lafayette, smoking
---
Next Entry