Posted on 2/7/2017 1:58:00 PM.
Officials in Livingston Parish say at least two tornadoes touched down in Killian today, damaging homes and injuring two people. Mark Harrell, director of the Livingston Parish Office of Homeland Security and Emergency Preparedness, says they know of several residences impacted.
(pictured: overturned car in the Watson area, from the Livingston Parish Sheriff's Office)
tornadoes, southeast louisiana, mayor mitch landrieu, new orleans east, livingston parish
---
Posted on 12/22/2016 2:05:00 PM.
The Livingston Parish Sheriff's Office is taking part in a multi-agency investigation to bust criminals accused of robbing people after the August floods. They say, so far, a dozen suspects have been tied to multiple crimes including the case of a stolen trailer.
livingston parish, crime, flood victims, august floods
---
Posted on 9/16/2016 10:24:00 AM.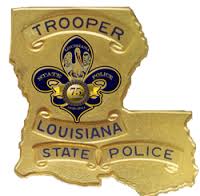 A Denham Springs man has died after hitting a horse in the road. State Trooper Bryan Lee says one of their troopers came upon the accident around 1 am.
More
Bryan Lee, LSP, Livingston Parish
---
Posted on 8/22/2016 1:52:00 PM.
It's estimated it will take at least one year to recover from the historic floods. That's according to LSU Economist Jim Richardson who says Livingston Parish, which was the hardest hit, will need a while to get back to some kind of normalcy.
More
Jim Richardson, The Great Flood 2016, Livingston Parish, flooding, recovery
---
Posted on 8/19/2016 1:25:00 PM.
Frustrations are growing in Walker in Livingston Parish over the lack of federal resources to help those affected by the historic flooding. Mayor Rick Ramsey says they've been told by FEMA that no temporary housing will be brought in for residents. He says FEMA will try to expedite some reimbursement but that isn't enough.More
FEMA, Walker, Livingston Parish, Rick Ramsey, The Great Flood 2016
---
Posted on 8/19/2016 11:58:00 AM.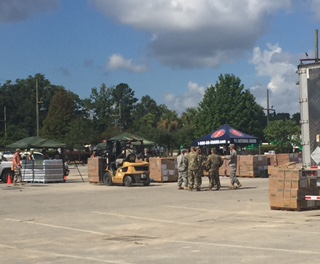 Many flood victims gathered today at Bass Pro Shop in Denham Springs to receive water and food, as well as, meet with FEMA representatives to apply for disaster assistance. Terry is a Denham Springs resident whose home was flooded during the storm. He says he lost two trailers and a truck but is lucky to be able to stay with his daughter in her home.
More
Bass Pro Shop, Denham Springs, Livingston Parish, FEMA, The Great Flood 2016, Travis Jenkins
---
Posted on 8/16/2016 10:28:00 AM.
About 75% of Livingston parish is a total loss. That's according Sheriff Jason Ard who also says 5,000 people are in local shelters, but there have not been any fatalities. Parish President Layton Ricks says there are over 25 shelters set up throughout the parish.
More
Sheriff Jason Ard, Layton Ricks, Livingston parish, #laflood
---
Posted on 6/17/2016 10:38:00 AM.
A former Livingston Parish teacher has been arrested following allegations of an inappropriate relationship with a student at Walker Freshman High School. Walker Police Capt. John Sharp says 33-year-old Lynsie Pendarvis was arrested following an interview with the 15-year-old student who confirmed they had engaged in a sexual relationship.
More
Capt. John Sharp, Lynsie Pendarvis, Livingston Parish, Walker Freshman High School
---
Posted on 4/11/2016 12:52:00 PM.
State Police say two children are dead after a fatal wreck on a highway in Livingston Parish last night. Trooper Bryan Lee says impairment is suspected on the part of two of the four vehicles involved. Lee says the two children killed were ages four and six and they were standing on the road as adults were attempting to remove a garbage compactor from the road.
More
LSP, Bryan Lee, Livingston Parish, Jerry Ervin, Travis Rose, trash compactor, Michelle Ramsey, impairment
---
Posted on 3/15/2016 1:51:00 PM.
Officials in Livingston Parish have also been working around the clock dealing with flood waters and residents who were displaced from their homes. Sheriff Jason Ard says they saw high levels in the Maurepas area, Springfield, Holden and Denham Springs.
livingston parish, sheriff jason ard, flood,
---
Next Entry