Posted on 1/3/2018 11:45:00 AM.
The Louisiana SPCA says they have been trying to keep up with all the reports of pets left outside during this extreme cold snap. Some pets are being seized by authorities and owners are being charged with animal cruelty. SPCA spokesperson Alicia Haefele says Animal Control officers are responding to all calls concerning outdoor animals left alone seriously.

cold weather, pets, Louisiana SPCA
---
Posted on 12/7/2017 5:36:00 PM.
With Christmas right around the corner, the Louisiana SPCA encourages people to give the gift of a home to a pet in need through adoption. Spokesperson Alicia Haefele says they're offering a $50 adoption special until December 23rd. She says last year 222 animals found forever homes during the holiday season.
More
Christmas, Louisiana SPCA, adoption, Alicia Haefele
---
Posted on 7/4/2017 2:15:00 AM.
With lots of fireworks expected this Fourth of July, the Society for the Prevention of Cruelty to Animals encourages pet parents to keep their fur babies safe and calm. Ana Zorrilla with the Louisiana SPCA says the Fourth of July is one of the busiest days in terms of animals getting lost from their homes. She says that's why it's important to make sure all your pets have a collar and ID tag.
More
Ana Zorrilla, Louisiana SPCA, Fourth of July, fireworks, pets
---
Posted on 3/23/2016 4:43:00 AM.
Every year animal shelters see an influx of bunnies after Easter, because parents bought rabbits for their children, but were unprepared to care for them. Alicia Haefele, with the Louisiana Society for the Prevention of Cruelty to Animals, says parents might be putting too many eggs in their basket by getting these bunnies.
More
Alicia Haefele, Louisiana SPCA,
---
Posted on 4/21/2015 11:55:00 AM.
Michelle Southern reporting.
The reward for information about those responsible for the gruesome beheading of a goat, which was recorded with a cell phone, is now $14,000. Louisiana SPCA spokesperson Destinie Hammond says their members are disgusted by the video showing a group of young men cutting off the animal's head with a machete type sword.
louisiana spca, goat beheading
---
Posted on 4/2/2015 3:26:00 AM.
The Louisiana SPCA is encouraging folks to celebrate Easter responsibly and think before you buy live bunnies and chicks as pets. Spokeswoman Destinie Hammond says hundreds of rabbits are turned in to local shelters or released into the wild shortly after the Easter holiday.
Easter, bunnies, rabbits, chicks, louisiana spca, destinie hammond
---
Posted on 3/25/2015 6:10:00 PM.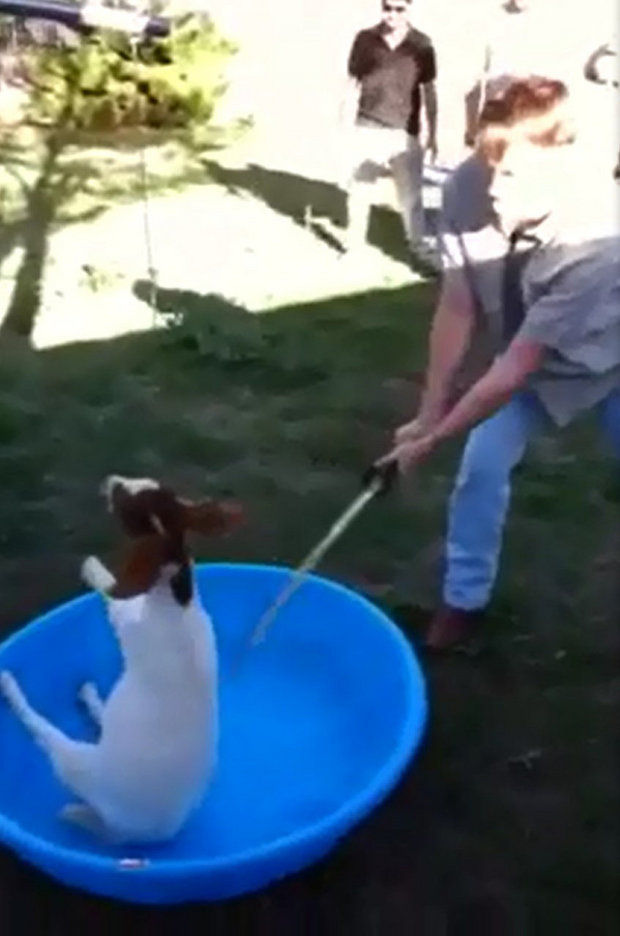 The Louisiana SPCA is offering a reward of 13,000 dollars for information about a gruesome 12-second video of five men beheading a goat. CEO Anna Zorilla says the men in the video are laughing and cheering as the beheading went on.
goat beheading, louisiana spca, anna zorilla
---
Posted on 2/4/2015 11:33:00 AM.
Michelle Southern reporting.
The Louisiana SPCA has increased the reward to $3000 for anyone who has information about the person or persons responsible for cutting the head off baby goat last week in a park in Orleans Parish. Spokeswoman Alicia Haefele says the animals belong to a company called "Y'herd Me" and help maintain shrubbery at the Brechtel Park in Algiers.
baby goat, beheading, louisiana spca, alicia haefele
---