Posted on 2/19/2018 11:19:00 AM.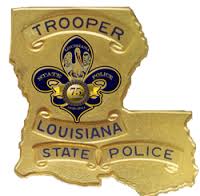 Three Louisiana schools have received social media threats, with Ville Platte under lockdown due to one received this morning. Dutchtown and Ponchatoula High School were threatened in social media over the weekend. The Dutchtown threat was made by a former student living in another state. State Police Major Doug Cain says
in light of the recent Florida school shooting that killed 17
making false threats is not a game and creates problems for law enforcement officials.
Doug Cain, Louisiana State Police, school threats
---
Posted on 2/2/2018 4:53:00 AM.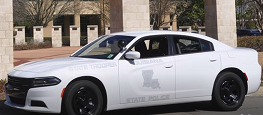 Starting this month, Louisiana State Police will add Dodge Chargers to their fleet with a twist. Some of the new vehicles will be fully marked, while others will be semi-marked and a few will not be marked at all.
Lt. J.B. Slaton says the new less visible vehicles will allow Troopers to blend in with traffic and stop drivers who are reckless.
More
Louisiana State Police, JB Slaton, Dodge Chargers
---
Posted on 11/29/2017 10:29:00 AM.
A Denham Springs woman has been arrested for filing a false police report after she allegedly told authorities she was raped by a Livingston Parish deputy. State Police say 38-year-old Sherri Penton and the unidentified deputy met on a social dating website in mid-October. State Trooper Bryan Lee explains what happened
.
Sherri Penton, Livingston Parish Sheriff's Deputy, Louisiana State Police
---
Posted on 11/27/2017 10:41:00 AM.
State Police have arrested a Slidell man after he allegedly hit a bicyclist, removed him from his windshield and left the scene. Trooper Dustin Dwight says 48-year-old Larry Kellett struck 59-year-old Calvin Lefort Jr. of Slidell on US 190 Saturday night
.
Louisiana State Police, Slidell, Larry Kellett, Calvin Lefort
---
Posted on 11/8/2017 5:11:00 PM.
Three state police troopers have been placed on paid administrative leave amid allegations of claiming overtime on hours they never actually worked. State Police Major Doug Cain

says the investigation started after surveillance video was uncovered by a New Orleans television station. He says Col. Kevin Reeves has asked for a full investigation into the allegations found by WVUE TV
.
state troopers, LACE program, Louisiana State Police
---
Posted on 10/9/2017 10:45:00 AM.
A truck driver was killed this morning after he lost control of his vehicle on I-10 at the Butte La Rose exit in St. Martin Parish. Louisiana State Police Master Trooper Brooks David says the accident caused a section I-10 eastbound to be closed while crews inspected the bridge.
More
truck accident, i-10, st. martin parish, Louisiana state police
---
Posted on 5/5/2017 12:26:00 PM.
A Sulphur man is behind bars after threatening a driver on I-10 with a handgun. Louisiana State Police Sgt. James Anderson says 24-year-old Matthew Savoie brandished his weapon at another motorist while driving down I-10 near Welsh.
More
James Anderson, Louisiana State Police, Matthew Savoie, I-10
---
Posted on 7/8/2016 10:42:00 AM.
Law enforcement around the state are gearing up for a potential threat in Louisiana following the Dallas attack that left five police officers dead and seven injured. State Police Col. Mike Edmonson says there is concern that something similar could happen in Louisiana because a suspect in the Dallas shooting told police he was upset about the police violence in Baton Rouge and Minnesota.
More
Col. Mike Edmonson, Dallas shooting, Louisiana State Police
---
Posted on 6/11/2016 7:23:00 PM.
Four people died early Saturday morning in Vernon Parish in a single vehicle wreck and excessive speed is a suspected factor. That's according to Louisiana State Police, who responded to the crash around 4:15 A.M. on Louisiana Highway 10 between Oakdale and Pitkin.
Louisiana State Police, fiery crash, Vernon Parish
---
Posted on 4/11/2016 12:10:00 PM.
Today Governor John Bel Edwards declared April as Child Abuse Prevention Month in Louisiana. According to Prevent Child Abuse Louisiana, there were over 12,000 victims of child abuse and neglect in 2014, the latest year statistics are available. State Police Major Doug Cain says kids are our most important resource, and everyone needs to do what they can do to protect them.
More
Doug Cain, child abuse prevention, Louisiana State Police
---
Next Entry