Posted on 12/2/2017 1:06:00 AM.
State Police arrested the driver involved in a fatal hit and run that killed a pedestrian in St. John the Baptist Parish on November 25th. Senior Trooper Melissa Matey says 34-year-old Javon Gomez of Reserve was taken into custody at his residence after receiving a tip from a citizen.
More
LSP, Melissa Matey, hit and run, Eugene Webber, Javon Gomez
---
Posted on 9/25/2017 11:43:00 AM.
State Police say a 7-year-old was killed Sunday in a single vehicle crash in St. Charles Parish. Trooper Melissa Matey says they believe the driver, 32-year-old Islam Ezzo of Hahnville was impaired when he ran off the road.
Melissa Matey, Islam Ezzo, Alina Ezzo
---
Posted on 6/28/2017 5:44:00 PM.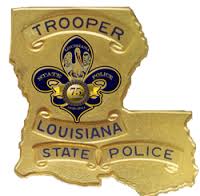 A two-year-old is among the three dead after a car chase ended with a crash in New Orleans east on Wednesday afternoon. Louisiana State Police spokesperson, Trooper Melissa Matey, says state police units attempted to stop the vehicle in downtown New Orleans for a stolen license plate. Matey says the driver fled the scene and collided with a truck and ran off the road.
More
Melissa Matey, LSP, New Orleans, police chase, crash
---
Posted on 6/16/2017 4:54:00 AM.
A State Trooper has been charged with simple battery after allegedly using excessive force on a suspect. Trooper Melissa Matey says back in February, Master Trooper John Neal tried to conduct a traffic stop on a stolen vehicle in Orleans Parish, one of the occupants fled on foot and was detained. She says that's when things escalated between Neal and the victim.
More
Melissa Matey, John Neal, LSP, Orleans Parish, simple battery
---
Posted on 4/13/2017 1:29:00 PM.
One person is dead and another seriously injured following a fiery crash between a fuel truck and a dump truck on Interstate 310 south in St. Charles Parish. Authorities say two other vehicles were also involved in the wreck. Trooper Melissa Matey says the deadly crash occurred this morning between LA 18 and LA 3127.
More
Melissa Matey, fiery crash, Interstate 310, St. Charles Parish
---
Posted on 2/16/2017 11:00:00 AM.
Louisiana State Police is ramping up enforcement in New Orleans for 2017 Carnival season and this weekend's NBA All-Star Game. Trooper Melissa Matey says LSP will send 165 troopers to the Crescent City. She says plain clothes troopers will also be along parade routes looking for individuals with illegal weapons.
More
LSP, Melissa Matey, Mardi Gras
---
Posted on 1/30/2017 10:34:00 AM.
A four-year-old boy was killed while walking along the shoulder of Airline Hwy last night in Jefferson Parish, according to State Police. Trooper Melissa Matey says Isiah Winfrey, of Metairie, was on the shoulder of the roadway with his mother when,
More
LSP, Melissa Matey, Isiah Winfrey
---
Posted on 11/23/2016 11:13:00 AM.
State Police's Click It or Ticket Campaign is in effect for the Thanksgiving holiday weekend. Trooper Melissa Matey says law enforcement will look for drivers who are not properly buckled and children who are not correctly restrained. She says the seat-belt provides many different protections.
More
LSP, Thanksgiving holiday, Click It or Ticket, Melissa Matey
---
Posted on 9/2/2016 12:58:00 PM.
Michelle Southern reporting.
Additional criminal charges have been filed against the driver of the bus who crashed into emergency vehicles in St. John Parish, causing the death of three people including the fire chief. The third victim succumbed to injuries on Thursday. Melissa Matey says Denis Yasmir Amaya Rodriguez, an illegal alien, faces multiple charges.
Amaya Rodriguez, bus crash, melissa matey, spencer chauvin, vontarous kelly, jermaine starr
---
Posted on 8/8/2016 1:02:00 PM.
There was a bizarre incident on I-10 this morning near LaPlace, as a small plane had to make an emergency landing in the median. That's according to Melissa Matey with State Police. She says the aircraft had some mechanical failures.
plane lands on interstate, i-10, state police, Melissa Matey
---
Next Entry