Posted on 6/24/2017 4:52:00 PM.
By Jeff Palermo
For the first time since 2009, the LSU Tigers will play in the championship series of the CWS after a dominating 6-1 victory over Oregon State. Caleb Gilbert was terrific on the mound and the Tigers hit three home runs.
LSU, Oregon State, Michael Papierski, Kramer Robertson, Beau Jordan, Caleb Gilbert
---
Posted on 3/13/2016 2:52:00 PM.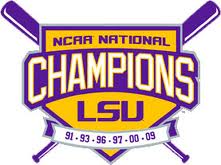 After scoring just one run in Friday night's loss to Ball State, LSU's bats responded the next two days to take the weekend series over the Cardinals. The Tigers beat Ball State 9-3 on Saturday and followed that up with a 10-6 win on Sunday.
LSU, Ball State, John Valek, Greg Deichman, Kramer Robertson, Michael Papierski
---