Posted on 11/29/2017 1:03:00 PM.

The Today Show Host Matt Lauer is now another prominent name in media who has been fired amid allegations of sexual misconduct.
More
Matt Lauer, LSU Health New Orleans, Michelle Many, sexual harassment, sexual misconduct
---
Posted on 4/4/2017 5:34:00 AM.
Louisiana is the second most stressed state, according to a report by WalletHub. Michelle Many with LSU Health New Orleans believes that's because so many people in the Bayou State are poor. Many says a lack of money can prevent people from getting the psychological help they need.
More
Michelle Many, LSU Health New Orleans, WalletHub, stress
---
Posted on 2/20/2017 12:05:00 PM.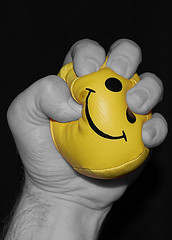 Do you feel politically stressed? A new report by the American Psychological Association finds, no matter what party you are, anxiety over political matters is at an all time high. Michelle Many with the LSU Health Sciences Center in New Orleans finds the principle factor in this deals with social relationships.
politics, stress, michelle many, lsu health sciences center new orleans
---