Posted on 4/26/2018 1:12:00 PM.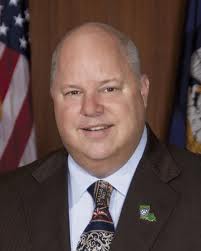 A woman is under arrest for allegedly stealing a horse, and selling it for $1,000 cash on the internet. 27-year-old Sarah Broussard of Scott was booked into the Lafayette Parish Jail on the charge of Theft of Property valued over $500. Ag Commissioner Mike Strain (pictured) says the buyer had no clue the horse was stolen.

"She used a false name to identify herself and advertise to sell a horse for sale on the internet," Strain said.
More
Mike Strain, cyber, crime, Lafayette, Agriculture Commissioner
---
Posted on 3/30/2018 11:17:00 AM.
Many children will be eager to find eggs during the traditional Easter egg hunts this year. There are things to keep in mind, especially if you plan on eating those eggs that are found. Louisiana Agriculture Commissioner Mike Strain says it's important to use the correct dyes when coloring your eggs.
More
Easter egg hunts, Mike Strain, dyed eggs
---
Posted on 3/29/2018 3:12:00 AM.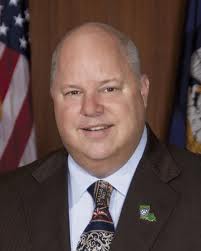 The Department of Agriculture and Forestry has ordered an emergency quarantine so that Roseau cane south of LA Highway 10 is not transported out of the area. A tiny invasive insect is damaging the plant, which is a vital part of Louisiana's wetland. Commissioner Mike Strain says it's already effected 200,000 acres.
More
Roseau cane, quarantine, Agriculture and Forestry, Mike Strain
---
Posted on 3/8/2018 11:32:00 AM.
The Louisiana Agriculture and Forestry Department is seeking information in finding persons responsible for the death of a cow and three calves. Commissioner Mike Strain says they were killed in a pasture at a levee near Port Barre.
"Inspectors say it appears the cattle were run over by a truck. According to witnesses, they say they heard what sounded like trucks mud riding in the area around midnight on March 3rd."
More
St. Landry Parish, murdered cows, Mike Strain
---
Posted on 1/31/2018 11:57:00 AM.
Louisianans looking to buy local products at their grocery store should look for a new logo. Louisiana Ag Commissioner Mike Strain says they have overhauled their Certified logo program with flashier, more diverse logos to further highlight goods made in the Bayou State.
Certified Louisiana, LDAF, Mike Strain
---
Posted on 12/27/2017 12:03:00 PM.
The US Department of Agriculture will begin testing a new method for controlling the rampant feral hog population. Texas and Alabama were chosen for a pilot program involving a new poison bait that officials hope will target the swine, without damaging local ecosystems. Louisiana Ag Commissioner Mike Strain says the Sodium Nitrite targets red blood cells to incapacitate the pigs.
USDA, Swine, Research, Mike Strain, Sodium nitrite
---
Posted on 12/5/2017 5:30:00 AM.
Louisiana is one of a dozen states asking the US Supreme Court to block a California law which states any eggs sold there must come from hens who have been able to stretch their limbs in their cages.
State Ag Commissioner Mike Strain says California
can pass whatever law they want, but saying that their standards should apply to all eggs shipped into the state violates the Commerce clause of the U.S. Constitution.
More
eggs, Mike Strain, U.S. Supreme Court, Constitution
---
Posted on 11/13/2017 1:44:00 PM.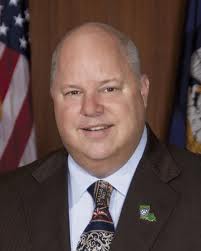 Governor Edwards and Louisiana Ag Commissioner Mike Strain will start a listening tour across several rural communities tomorrow. The tour will allow members of the agricultural community an opportunity to ask questions and to discuss their concerns. Strain says they want to know the challenges farmers face.
Governor John Bel Edwards, Mike Strain, Louisiana Ag economy
---
Posted on 7/21/2017 11:09:00 AM.
Louisiana will be able to export rice to China for the first time ever under a landmark trade agreement involving the U.S. and the Asian country. Commissioner of Agriculture Mike Strain says this is a huge achievement for the rice industry.
More
rice, China, Mike Strain, trade agreement
---
Posted on 7/13/2017 3:38:00 AM.
Three out of four farm recovery grant program meetings are scheduled for today for farmers and ranchers who suffered losses as a result of the March and August 2016 floods. Agriculture Commissioner Dr. Mike Strain says during these meetings, the guidelines and application process for receiving recovery grant money will be discussed.
More
The Great Flood 2016, Mike Strain, farmers, ranchers
---
Next Entry