Posted on 11/2/2017 12:55:00 PM.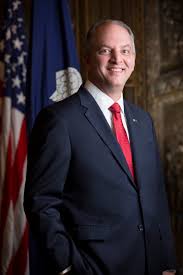 A poll from Morning Consult finds in his second year in office, Governor John Bel Edwards has an approval rating of 53%. LSU Political Science Professor Robert Hogan says any time a governor has an approval of over 50% that's good news. He says Edwards has received high marks when it comes to dealing with the high number of natural disasters Louisiana has recently seen.
More
Morning Consult, Governor John Bel Edwards, approval, Robert Hogan
---
Posted on 11/1/2017 1:38:00 PM.
When it comes to popularity in Congress, both of Louisiana's US Senators rank right about in the middle, according to a new Morning Consult poll. US Senator John Kennedy is ranked 39th out of 100 Senators, and Senator Bill Cassidy was number 62.
US Senate, John Kennedy, Bill Cassidy, Joshua Stockley, ULM, Morning Consult
---
Posted on 10/10/2017 12:44:00 PM.
The Morning Consult group says that President Donald Trump's approval ratings have dropped some, but only two percent in Louisiana. U-L-M Political Science professor Dr. Joshua Stockley says the drop from a 59 percent approval in January in Louisiana to 57 percent now is not a big deal.
More
president trump, approval ratings, morning consult
---