Posted on 5/23/2016 5:29:00 PM.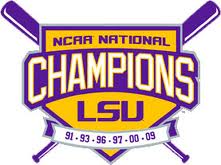 LSU freshman left-hander Jake Latz will start on the mound Tuesday night for the Tigers when they take on Tennessee in the SEC Tournament. Latz has only appeared three games this season as he recovered from elbow surgery. But Coach Paul Mainieri says Latz pitched well on Saturday and hopes his arm troubles are behind him.
More
Paul Mainieri, LSU baseball, Jake Latz, Alex Lange, NCAA tournament
---
Posted on 3/16/2016 7:46:00 PM.
Southern's time in the NCAA Tournament didn't last long, as they lost to Holy Cross 59-55 in the opening round of the Big Dance. The Jaguars fell behind by 12 points in the 1st half, but went on a 16-3 run to take the lead early in the 2nd half.
Southern University, Holy Cross, NCAA Tournament
---
Posted on 5/31/2015 6:59:00 PM.
For the second straight game, UL Lafayette put together a furious rally in the 9th inning to win in the NCAA Baseball tournament. On Sunday afternoon, the Cajuns trailed Houston 1-0, but scored two runs in the 9th inning to win 2-1 and advance to the regional championship game.
UL Lafayette, Houston Regional, NCAA Tournament
---
Posted on 3/15/2015 8:21:00 PM.
For the first time since 2009, the LSU Tigers are in the NCAA men's basketball tournament. The Bayou Bengals are a nine-seed and they'll face North Carolina State on Thursday night in Pittsburgh. Coach Johnny Jones says the goal all season long was to get an invite to the Big Dance.
LSU, Johnny Jones, March Madness, North Carolina State, NCAA Tournament
---
Posted on 3/20/2014 2:51:00 PM.
The Ragin Cajuns look to pull off an upset Friday afternoon when they face the Creighton Blue Jays in the NCAA Tournament. Creighton finished in second in the Big East Conference and they are led by Doug McDermott, who is one of the top scorer's in the nation. Cajuns Coach Bob Marlin says his team has a chance to make a real statement.
NCAA Tournament, Ragin Cajuns, Bob Marlin, Doug McDermott
---
Posted on 3/16/2014 6:56:00 PM.
The Ragin Cajuns men's basketball team is in the NCAA Tournament for the first time since 2005. U-L Lafayette rallied back from a 9-point deficit with three minutes in regulation to beat Georgia State 82-81 in overtime in the Sun Belt Tournament Championship game. Senior guard Bryant Mbamalu was named tournament MVP.
Ragin Cajuns, NCAA Tournament, Bob Marlin, Elfrid Payton, Bryant Mbamalu, Sun Belt
---