Posted on 9/29/2017 11:40:00 AM.
Governor John Bel Edwards is sending over 300 Louisiana National Guard soldiers to Puerto Rico to assist the island nation as it deals with catastrophic devastation from Hurricane Maria. Mike Steele, with the Governor's Office of Homeland Security and Emergency Preparedness, says two separate units will spend a month in Puerto Rico.
More
John Bel Edwards, National Guard, GOHSEP, Mike Steele, Puerto Rico, Hurricane Maria
---
Posted on 9/11/2017 2:00:00 AM.
75 Soldiers from the Louisiana National Guard's 165th Combat Sustainment and Support Battalion are set to deploy to Afghanistan. Bossier Parish Community College gymnasium will hold a deployment ceremony at 11 AM for family and friends to bid farewell. Col. Ed Bush says these troops will be overseas for about a year.
More
National Guard, Ed Bush, Afghanistan
---
Posted on 5/12/2017 3:16:00 AM.
Over 160 soldiers in the Louisiana National Guard's 1086th Transportation Company are heading to Fort Hood, Texas for training before being deployed to Kuwait. Col. Ed Bush says a deployment ceremony will be held for the Bunkie-based unit in Pineville on Saturday. He says during their one year deployment, the soldiers will provide logistic transportation support.
More
National Guard, 1086th Transportation Company, Ed Bush
---
Posted on 3/10/2016 2:01:00 PM.
Governor John Bel Edwards has activated 750 Louisiana National Guard members to help combat the widespread flooding in north Louisiana. Edwards urges the public to stay inside and off the flooded roadways. He says there are now three confirmed deaths, one including a six-year-old girl.
More
Governor John Bel Edwards, severe weather, National Guard, flooding, Mike Edmonson, Robert Shadoin
---
Posted on 2/29/2016 1:21:00 PM.
State Senators are hearing about the potential impacts if they approve a House bill that cuts an additional 106-million dollars from this fiscal year's budget. Superintendent of Education John White says they would have to close early childhood programs, send voucher students back to public schools and cancel standardized testing. That led to this question by Senator Wesley Bishop.
More
John White, Rebekah Gee, Glenn Curtis, budget cuts, National Guard, DHH, education
---
Posted on 1/11/2016 10:49:00 AM.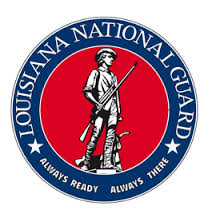 The Louisiana National Guard has mobilized almost 300 personnel to build protective barriers against approaching flood waters from the Mississippi and Atchafalaya Rivers. Lt. Rebekah Malone says protective levees are being constructed in Krotz Springs in St. Landry Parish and Avoca Island in St. Mary Parish.
flooding, Louisiana, National Guard, levees, Krotz Springs, Avoca Island, Rebekah Malone
---
Posted on 1/7/2016 10:54:00 AM.
The Louisiana National Guard is mobilizing to assist local, parish, and state emergency officials in advance of flooding threats due to near record crests expected along the Mississippi River. Col. Pete Schneider says they're bringing on extra soldiers and airmen to aid efforts.
Louisiana, National Guard, flooding, Mississippi River, Pete Schneider
---
Posted on 12/13/2015 1:15:00 AM.
Now that the Pentagon has made all military jobs available for women, 21-year-old Pvt. Journae King of LaPlace made history in the Louisiana Army National Guard as the first woman to enlist as a field artillery soldier. King's recruiter, Staff Sgt. Robert Gregoire says even though she knew the position would be challenging, she stepped up to the plate.
More
National Guard, Robert Gregoire, Journae King, Field Artillery Soldier
---
Posted on 10/15/2015 10:17:00 PM.
The Louisiana Army National Guard has made significant jumps in their overall strength and retention of force. LANG ranks number four among all other states' National Guards in overall strength of its force and first for retaining personnel.
Louisiana, National Guard, strength, retention, Col. Pete Schneider
---
Posted on 6/19/2015 11:09:00 AM.
Baton Rouged based Explosive Service International signs a 19 million dollar contract with the Louisiana National Guard which allows them to begin the process of disposing 15 million pounds of M-6 propellant from Camp Minden in Webster Parish. Guard Spokesperson Colonel Pete Schneider says it will take the company a few months to create the closed container to burn the explosives.
Camp Minden, National Guard, M6, Pete Schneider
---
Next Entry