Posted on 6/24/2017 4:52:00 PM.
By Jeff Palermo
For the first time since 2009, the LSU Tigers will play in the championship series of the CWS after a dominating 6-1 victory over Oregon State. Caleb Gilbert was terrific on the mound and the Tigers hit three home runs.
LSU, Oregon State, Michael Papierski, Kramer Robertson, Beau Jordan, Caleb Gilbert
---
Posted on 6/22/2017 1:03:00 PM.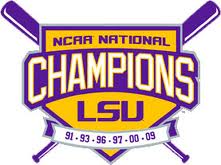 LSU advances in the College World Series following the win against Florida State last night, and now the Tigers must beat No. 1 Oregon State twice in Omaha to make the finals. LSU fell to The Beavers in embarrassing fashion on Monday, but Tiger Rag Associate Editor James Moran says Friday's contest will be a whole new ballgame with ace Alex Lange on the mound.
lsu baseball, oregon state, tiger rag, james moran.
---
Posted on 6/19/2017 9:47:00 PM.
LSU found out why Oregon State has just four losses, but the Tigers also helped them in a 13-1 defeat to the top seeded Beavers. LSU pitchers walked 11, there was a big error by Kramer Robertson and a couple of other plays in the field were also not made.
LSU, Oregon State, College World Series
---
Posted on 6/19/2017 4:30:00 AM.
By Jeff Palermo
A long winning streak will end on Monday night in the College World Series when top seeded Oregon State faces 4th seeded LSU. The Beavers have won 22 straight, while LSU has won 17 in a row. The two teams meet in a winner's bracket contest tonight, after come from behind wins on Saturday.
LSU, Oregon State, College World Series, Eric Walker
---