Posted on 5/9/2018 12:03:00 PM.
The Pelicans season ended Tuesday with a 113-to-104 loss to the defending NBA Champion Golden State Warriors. Golden State was just too good in this series, but New Orleans Coach Alvin Gentry still sees his team is one on the rise.
"Even losing to the champs, I think you've got to be disappointed that's one of the things I like about our team is that we came in here with the expectation of winning and if you're not going to do that I don't know how you advance," Gentry said.
More
Pelicans, Golden State, playoff series, basketball
---
Posted on 3/23/2018 2:35:00 PM.
Funeral services for Saints and Pelicans owner Tom Benson, who died last week at the age of 90, occurred Friday at St. Louis Cathedral in New Orleans. Archbishop Gregory Aymond officiated the Mass and said Benson grew up poor, but worked hard to become a successful businessman.
Tom Benson, funeral, Gregory Aymond, Saints, Pelicans
---
Posted on 3/21/2018 7:44:00 PM.
A team official says the Saints and Pelicans are committed to Louisiana and the city of New Orleans. With Tom Benson's death, there are questions surrounding the fate of both teams in one of the smallest sports markets in the country. Saints and Pels President Dennis Lauscha says he and Benson's widow, Gayle, are committed to New Orleans
.
Gayle Benson, Dennis Lauscha, Saints, Pelicans
---
Posted on 8/17/2017 8:05:00 AM.
Michelle Southern reporting.
Tom Benson's Dixie Beer is entering new markets all across the Gulf South area, and now residents in Lafayette and Baton Rouge will be able to enjoy Louisiana's iconic brew.
Ben Hales is the Senior Vice President of the Saints and Pelicans and is helping Benson oversee operations of the century-old Dixie Beer brand.
Tom Benson, Dixie Beer, New Orleans, Ben Hales, Saints, Pelicans
---
Posted on 6/17/2016 2:44:00 PM.
A lengthy dispute between Saints and Pelicans owner Tom Benson and his children and two grandchildren over the future of the two professional franchises appears to be over. The Saints released a statement on Friday afternoon that says a settlement has been reached by Benson and the trustees.
Tom Benson, family dispute, Pelicans, Saints
---
Posted on 3/21/2016 3:35:00 PM.
NBA superstar Pelicans center Anthony Davis says he's been playing with a torn labrum in his shoulder for three years and will take the rest of the season off due to surgery. This also means he won't go to the summer Olympics in Rio de Janerio, Brazil. Davis says he isn't looking forward to being off the court but something needs to be done.
More
Pelicans, New Orleans, Anthony Davis, injury, surgery, Olympics
---
Posted on 12/14/2015 3:05:00 PM.
The Benson family saga took a turn Monday as New Orleans Saints and Pelicans owner Tom Benson offered to resign as a trustee in a disputed family trust in Texas on the condition that his daughter Renee doesn't take his place.
Tom Benson, lawsuit, trust, Saints, Pelicans, Tim Meche
---
Posted on 7/1/2015 10:14:00 AM.
Star forward Anthony Davis has verbally agreed to accept the New Orleans Pelicans' maximum extension deal that will reportedly pay him $145 million over five years. Davis took to social media to make the announcement last night.
New Orleans, Pelicans, Anthony Davis, maximum extension deal
---
Posted on 6/22/2015 5:50:00 PM.
During an introductory press conference, new Pelicans head coach Alvin Gentry says he wants to see a parade down Canal Street in New Orleans after the team wins its first NBA title. Gentry says the pieces are in place to do that.
More
Pelicans, New Orleans, Alvin Gentry, Anthony Davis
---
Posted on 6/18/2015 3:15:00 PM.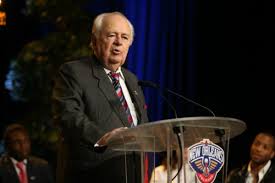 A civil district court judge in New Orleans declares that Saints and Pelicans owner Tom Benson is legally competent to run the professional franchises.
More
Tom Benson, Saints, Pelicans
---
Next Entry