Posted on 11/30/2018 7:18:00 AM.
A new statewide poll shows President Donald Trump's approval rating in Louisiana has increased by seven-percent over the last year and now a clear majority of voters support him. Pollster Bernie Pinsonat says 2018 featured big issues important to white conservative voters which dominate the state's electorate.
More
Donald Trump, President, Louisiana, poll, Bernie Pinsonat, 2018
---
Posted on 11/16/2017 12:34:00 PM.
Nicholls State University has named Jay Clune as the university's 6th president. Clune has served as interim graduate dean for the University of West Florida. He is a Nicholls graduate and native of nearby Homua. He will take over after the first of 2018. Clune says he wants students coming to Nicholls to learn in a modern environment
.
Jay Clune, Nicholls State, president
---
Posted on 5/2/2017 12:14:00 PM.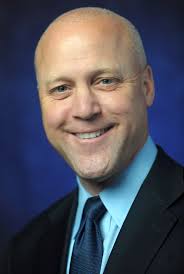 A New York Times report names New Orleans Mayor Mitch Landrieu as a potential 2020 presidential contender. Political analyst Clancy Dubos says he hasn't heard the mayor say anything about a potential White House bid. He believes the article reflects the need for a generational change within the Democratic Party.
More
Clancy Dubos, Mitch Landrieu, president, New Orleans
---
Posted on 7/7/2016 6:53:00 PM.
President Barack Obama says Americans should be deeply troubled by the fatal police shootings of two black men in Louisiana and Minnesota. Mr Obama says the deaths of Alton Sterling of Baton Rouge and Philando Castile of St. Paul are not isolated incidents and they reflect racial disparities that continue to plague this country.
Barack Obama, President, police shootings, Alton Sterling, Philando Castile
---
Posted on 12/31/2015 2:29:00 AM.
Thursday is University of Louisiana System President Sandra Woodley's last day on the job. Woodley announced her resignation last month.
UL System, president, Sandra Woodley
---
Posted on 11/18/2015 2:12:00 PM.
Governor Bobby Jindal has returned to Louisiana after ending his bid for the Republican presidential nomination. At a news conference at the Governor's Mansion, Jindal said he has no regrets seeking the nation's highest elected office.
Bobby Jindal, president, campaign
---
Posted on 10/16/2015 12:27:00 PM.

Federal fundraising reports show that Governor Bobby Jindal's presidential campaign raised less than $600,000 during the third fundraising quarter. The report further states that the governor has only $261,000 on hand.
Bobby Jindal, president, campaigning, fundraising, Robert Hogan
---
Posted on 10/14/2015 3:05:00 AM.
Members of Governor Bobby Jindal's presidential campaign are looking to change the current debate criteria so Jindal will be included in the next Republican presidential debate on October 28th. The campaign argues that basing criteria on national polls is meaningless at this point in the race.
Bobby Jindal, president, campaign, debate, criteria, Curt Anderson, Wes Anderson, Timmy Teeple
---
Posted on 10/5/2015 2:44:00 PM.

A new NBC/Marist poll on the presidential race in Iowa shows Governor Bobby Jindal now has 6-percent of the vote. That's a two-percent increase from their previous poll.
Bobby Jindal, president, campaign, poll, Kay Henderson
---
Posted on 9/18/2015 12:05:00 PM.

Governor Bobby Jindal raised $350,000 during a campaign fundraiser in New Orleans Thursday. LSU Political Science Professor Robert Hogan says despite mixed reviews the governor received for his performance in Wednesday's debate, Jindal is still able to raise funds for his presidential campaign.
Bobby Jindal, president, campaign, fund raising, Robert Hogan
---
Next Entry