Posted on 3/21/2017 5:06:00 AM.
The head of State Police, Col. Mike Edmonson retires this week, but a state law narrows the search for his permanent replacement. A statute requires the next superintendent to be a commissioned State Police officer who graduated from the LSP academy. But President of the Metropolitan Crime Coalition Rafael Goyeneche says a nationwide search should be conducted.
More
Mike Edmonson, Rafael Goyeneche, LSP
---
Posted on 3/13/2017 5:57:00 PM.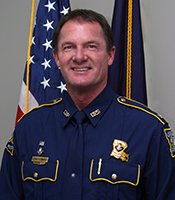 The Governor's Office says speculation that State Police Col. Mike Edmonson will step down is just a rumor. The State Police Superintendent has been surrounded in controversy over questionable travel by state troopers, and now troopers are being subpoenaed for a federal investigation looking into illegal campaign donations. President of the Metropolitan Crime Commission, Rafael Goyeneche, says none of this looks good for LSP.
More
Rafael Goyeneche, Col. Mike Edmonson, LSP, Metropolitan Crime Commission
---