Posted on 3/14/2018 4:00:00 AM.
The Ragin Cajuns are ready for tonight's NIT match-up versus LSU. Cajuns coach Bob Marlin says it's great to play in Baton Rouge, but he believes they should be seeded higher than LSU and the home team
.
"Our RPI is much better, our record is much better and we feel like our gym is much better. We have the second best record in the tournament out of 32 teams."
More
NIT, LSU, Bob Marlin, Ragin Cajuns
---
Posted on 4/26/2017 10:06:00 AM.
More than a dozen UL-Lafayette football players have been suspended indefinitely from the team after allegedly robbing a dorm room on campus. Lt. Billy Abrams with the UL-Lafayette Police Department says 13 football players stole several items from a room in Huger Hall.
More
Billy Abrams, UL-Lafayette, theft, Ragin Cajuns
---
Posted on 1/23/2017 1:55:00 PM.
A new custom-blend coffee, called the Ragin' Cajuns French Roast Coffee was introduced to the public today. The University of Louisiana at Lafayette partnered with the Mello Joy Coffee Company to develop this dark roast blend. Assistant Director of Trademark Licensing at ULL, Leslie Saloom, says the coffee has a little sweetness and a chocolate flavor.
More
ULL, Ragin Cajuns, Leslie Saloom, coffee
---
Posted on 3/3/2016 1:24:00 PM.
UL-Lafayette will have to vacate 22 football games between 2011 and 2014, as a result of a two-year NCAA Committee investigation. The committee determined that a former assistant coach falsified ACT scores for five students, meaning those students were ineligible to play. Games involving ineligible players led to vacating those victories. Jay Walker, the voice of the Ragin' Cajuns, says he understands the committee's ruling.
More
UL Lafayette, Jay Walker, Ragin Cajuns
---
Posted on 8/6/2015 10:32:00 AM.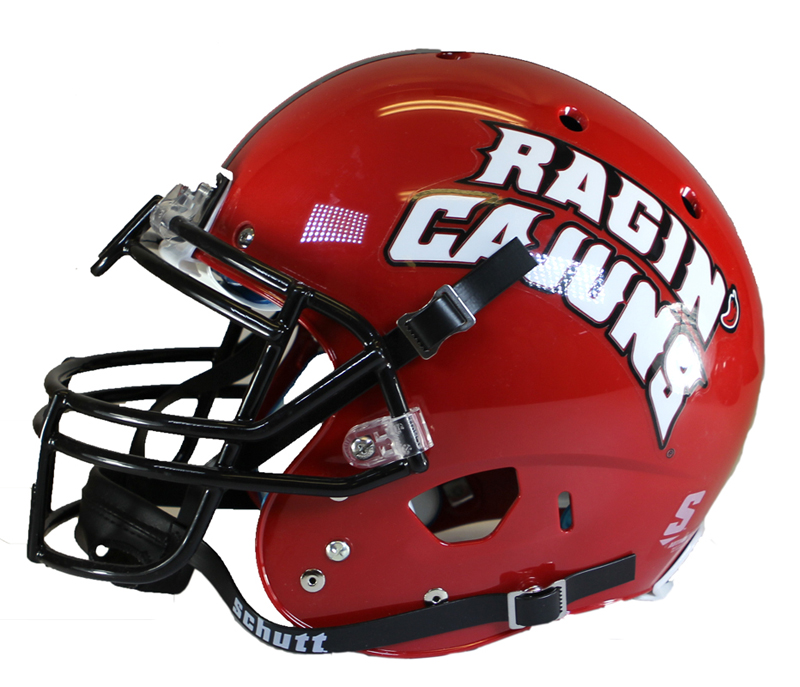 In the wake of the Lafayette theater shooting, the University of Louisiana-Lafayette football team will express their pride in their community on the football field this fall. Coach Mark Hudspeth says his team will wear Lafayette Strong decals on their helmets as a token of solidarity.
UL-Lafayette, Lafayette Strong, Ragin Cajuns, football, Mark Hudspeth
---
Posted on 6/7/2015 8:39:00 PM.
The LSU Tigers are in the College World Series for a 17th time after beating UL-Lafayette 6-3 to sweep the best of three Super Regional Series.
LSU received another masterful starting pitching performance from Jared Poche, who went 7.2 innings, allowing just one run on 5 hits and striking out 7.
LSU, Ragin Cajuns, Jared Poche, College World Series
---
Posted on 6/6/2015 10:00:00 PM.
Senior Chris Sciambra from Baton Rouge lived a dream all Little Leaguers have and that's hit a walk-off home run to win a postseason game. Sciambra's shot in the bottom of the 9th into the right field bleachers gave the Tigers a thrilling 4-3 victory over UL Lafayette.
More
LSU, Ragin Cajuns, Chris Sciambra, Wyatt Marks, Jake Fraley, UL Lafayette, Brenn Conrad
---
Posted on 12/16/2014 3:52:00 AM.
Michelle Southern reporting.
The UL-Lafayette football team leaves today for New Orleans where they'll play in the R+L Carriers Bowl for the 4th straight time. The Ragin' Cajuns will travel to The Big Easy to take on Nevada in the Mercedes Benz Superdome Saturday with a 10am kickoff.
ragin cajuns, ul-lafayette, scott farmer, r+l carriers bowl, new orleans bowl
---
Posted on 12/7/2014 5:14:00 PM.
The LSU football team will play Notre Dame in the Music City Bowl on Tuesday, December 30th. Itís the 15th straight season the Tigers will play in a bowl game and itís their first meeting against the Fighting Irish since beating them 41-14 in the 2007 Sugar Bowl.
LSU, Notre Dame, Music City Bowl, Ragin Cajuns, Duck Commander Independence Bowl
---
Posted on 11/22/2014 8:57:00 PM.
The Ragin Cajuns fell out of a tie for first place in the Sun Belt Conference as they lost to Appalachian State 35-16 on Saturday at Cajun Field. The Mountaineers dominated at the line of scrimmage, rushing for 232 yards. Appalachian State running back Marcus Cox rushed for 151 yards and two touchdowns.
More
Ragin Cajuns, Louisiana Tech, Bulldogs, Skip Holtz, Mark Hudspeth
---
Next Entry