Posted on 11/10/2017 12:42:00 PM.
A jury in Rapides Parish found 17-year-old Donasty Cohen guilty of manslaughter in the death of her 27-day-old baby. District Attorney Phillip Terrell says the infant's father, 17-year-old Kenneth Anderson, is currently in jail awaiting trial. He says Cohen will be sentenced on December 4th.
More
Rapides Parish, Donasty Cohen, Phillip Terrell, Kenneth Anderson
---
Posted on 10/26/2017 11:29:00 AM.
Authorities say the man who murdered a woman whose body was found in Pineville last week, is also the person that allegedly killed two people, who were burned in a ditch on Old Boyce Highway that same morning. Rapides Sheriff William Hilton says Matthew Sonnier now faces three counts of first-degree murder.
More
Pineville, Rapides Parish, William Hilton, Matthew Sonnier, Ebony Sonnier, Kendrick Horn, Jeremy Norris
---
Posted on 9/15/2017 11:45:00 AM.
An Alexandria Police officer has been booked into the Rapides Parish detention center on malfeasance and drug charges. State Trooper Scott Moreau says State Police received a tip last month regarding criminal activity involving 42-year-old Kenneth Thomas of Deville.
More
Rapides Parish, Alexandria PD, Kenneth Thomas, Scott Moreau, LSP
---
Posted on 7/20/2017 5:26:00 AM.
A man rushing his pregnant wife to the hospital missed the birth of his child after being arrested in Rapides Parish. Creola Police Chief Heath Landry says one of his officers clocked a vehicle doing 108 in a 55 mph speed zone. He says the officer witnessed more dangerous driving as he attempted to pull over Zak Evans.
More
Heath Landry, Zak Evans, Rapides Parish, arrest
---
Posted on 1/31/2017 2:46:00 PM.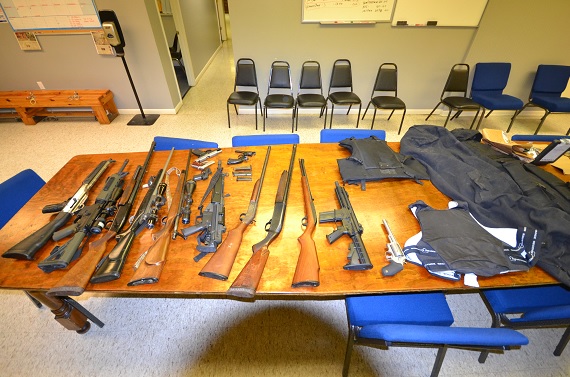 14 individuals have been arrested after an extensive burglary investigation by the Rapides Parish Sheriff's Office. Capt. Tommy Carnline says each time a search warrant was conducted, it led detectives to find more information or the recovery of stolen property. He says the suspects were part of a huge burglary ring.
More
Rapides Parish, Tommy Carnline, burglary ring
---
Posted on 7/11/2016 11:44:00 AM.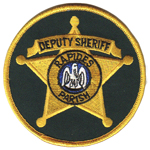 A 15 month old child that went missing overnight in Rapides Parish was located hours later in a briar patch across the street from the Tioga home. Lt. Tommy Carnline with the sheriff's office says they were called to the residence around 7:30 this morning, and the search lasted less than an hour.
15-month-old child, rapides parish, tommy carnline
---
Posted on 4/26/2016 11:03:00 AM.
A 17-year-old is under arrest after making threats online involving the Alexandria Senior High School prom. Rapides Parish Lt. Tommy Carnline says investigators believed an incident could take place at the prom and discovered a fake internet social media account. Carline says evidence found led them to arrest Adrian Ray of Alexandria at his home.
More
Alexandria Senior High School, prom, Rapides Parish, Tommy Carnline, Adrian Ray
---
Posted on 3/28/2016 12:53:00 PM.
Four more parishes have been added to the Presidential Disaster Declaration, which means victims of the historic flooding in these parishes are eligible for federal assistance. One of those parishes is Rapides and their homeland security director Sonya Wiley-Gremillion says 60 homes were flooded along the Red River
.
Sonya Wiley-Gremillion, Rapides Parish, disaster declaration
---
Posted on 2/11/2016 1:10:00 PM.
After an identity hearing in California today, a judged has ruled Frank Selas is former Monroe TV personality "Mr. Wonder" who is accused of committing sex crimes in Louisiana in the 70s. Lt. Tommy Carnline with the Rapides Parish Sheriff's Office says now the process of getting Selas back to Louisiana begins.
More
Frank Selas, Mr. Wonder, Rapides Parish, Tommy Carnline
---
Posted on 11/2/2015 12:08:00 PM.
Rapides Parish continues to clean up after severe weather ripped through the area over the weekend. Rapides Parish Sheriff's Lt. Tommy Carnline says a tornado touched down Saturday morning in the Elmer community that caused some damage.
Louisiana, weather, tornado, Rapides Parish, Elmer, Tommy Carnline
---
Next Entry