Posted on 6/6/2016 11:40:00 PM.
The Baton Rouge Regional has been extended until Tuesday as Rice beat the LSU Tigers 10-6 on Monday night at Alex Box Stadium. The win by the Owls forces a winner take all match-up on Tuesday at 4 PM.
LSU, Rice, Regional, Caleb Gilbert
---
Posted on 6/6/2016 9:34:00 PM.
After beating Arizona 10-3 on Sunday, it seemed like UL Lafayette was destined for a trip to the Super Regionals.
But the Wildcats stormed back to win three games in a 24-hour period to win the Lafayette Regional and advance to play Mississippi State in the Super Regionals.
UL Lafayette, Arizona, Regional, Evan Guillory, Wyatt Marks
---
Posted on 6/3/2016 11:38:00 PM.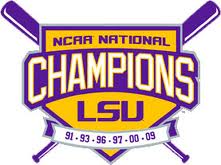 Other than the weather, LSU's first game in the NCAA Tournament went as well as you can expect as the Tigers easily defeated Utah Valley 7-1 at Alex Box Stadium.
The game was scheduled to begin at 2 PM on Friday, but didn't start until 8:30 because of heavy rainfall and lightning in Baton Rouge.
LSU, Jake Fraley, Jared Poche, Greg Deichmann, NCAA, regional, rain
---