Posted on 1/28/2015 6:45:00 AM.
Tom Benson has fired back at his daughter and two grandchildren who are attempting to get a judge to declare the Saints and Pelicans owners is not competent to make sound business decisions
.
More
Tom Benson, Gayle Benson, Rita Benson Leblanc, Ryan Leblanc
---
Posted on 1/22/2015 3:36:00 PM.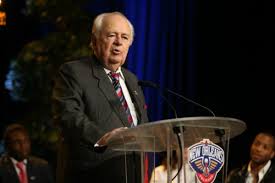 Michelle Southern reporting.
A day after New Orleans Saints owner Tom Benson announced his wife will assume ownership of the Saints and Pelicans when he dies, his former heir files suit claiming her grandfather is incapacitated. Rita Benson LeBlanc, her mother Renee Benson and brother Ryan LeBlanc filed the petition in Orleans Civil District Court Thursday.
tom benson, rita benson leblanc, renee benson, ryan leblanc, new orleans saints, new orleans pelicans, tim meche
---