Posted on 3/21/2018 7:44:00 PM.
A team official says the Saints and Pelicans are committed to Louisiana and the city of New Orleans. With Tom Benson's death, there are questions surrounding the fate of both teams in one of the smallest sports markets in the country. Saints and Pels President Dennis Lauscha says he and Benson's widow, Gayle, are committed to New Orleans
.
Gayle Benson, Dennis Lauscha, Saints, Pelicans
---
Posted on 3/21/2018 11:13:00 AM.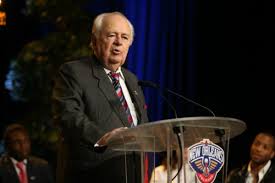 Public visitation for departed Saints and Pelicans owner Tom Benson is underway at Notre Dame Seminary in New Orleans. Mourners can pay their last respects until 7pm today and 8am to 1pm tomorrow, with a private funeral ceremony on Friday at noon.
Archbishop of New Orleans Gregory Aymond says it's a last opportunity for fans to pay their respects to a man who meant a lot to the city.
Tom Benson, Saints, NFL
---
Posted on 3/15/2018 5:58:00 PM.
Saints and Pelicans owner Tom Benson has passed away at the age of 90. Benson bought the Saints in 1985 after building a car dealership and real estate empire that started in San Antonio, and expanded to his hometown of New Orleans.
More
Tom Benson, Saints, NFL, obituary, Edwin Edwards, John Bel Edwards
---
Posted on 3/14/2018 12:09:00 PM.
Drew Brees is back in Black and Gold after agreeing to a two year, 50 million dollar contract one day before the start of free agency. The New Orleans legend will reunite with a team that was one play away from the NFC championship and loaded with young talent. Brees says he always planned on returning, but last season's success made the decision that much easier.
More
Drew Brees, contract, NFL, Saints, Black and Gold
---
Posted on 2/1/2018 5:20:00 PM.
The iconic Voice of the Saints Jim Henderson is retiring after a storied career calling the most triumphant and heartbreaking moments in Black and Gold history. The announcement came as a shock to many, as the Saints are a team on the rise, full of young talent, but Henderson says that's exactly why he chose this moment to leave.
Jim Henderson, Saints, Voice of the Saints
---
Posted on 1/16/2018 3:46:00 PM.
Drew Brees's contract is a huge question mark for the Saints this offseason. The quarterback turned 39 on Monday, and is a free agent in March. Brees and the Saints front office have been coy so far about contract negotiations, but Brees says he hopes to have a deal before the free agent deadline. The quarterback says this young, talented group is a great incentive to stick around with his favorite team…
Saints, Drew Brees, contract
---
Posted on 1/15/2018 12:13:00 PM.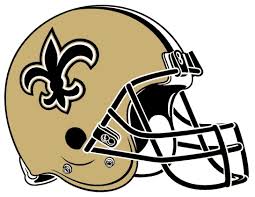 The Saints season came to a tragic end Sunday, but the offseason is sure to keep the team busy. Drew Brees and Kenny Vaccaro headline the Saint's 2018 free agents. NFL Analyst Mike Detillier says the team has a strong core, that can't lose its most important piece.
offseason, 2018, Saints, Drew Brees, Kenney Vaccaro
---
Posted on 1/9/2018 5:25:00 AM.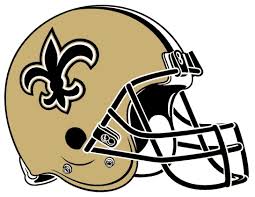 Saints fans following the team to Minnesota will be lucky if they experience temperatures above zero. Minneapolis is expecting arctic temperatures all weekend long, but the game itself will be played indoors. Explore Minnesota Spokesperson Erica Wacker says Minnesotans have a different way of thinking about the cold. More
Saints, Vikings, Playoffs
---
Posted on 1/5/2018 11:42:00 AM.
The Saints are playing their first home playoff game in six years, and fans are preparing parties across the Bayou. That's keeping Saints retailers busy as fan flock to stores to buy jerseys, banners, party plates, and everything else black and gold. Black And Gold Shop's Pam Randazzo says the weather has Saints fans wrapping up…
More
Saints, playoffs, Black and Gold Shop
---
Posted on 12/4/2017 10:53:00 AM.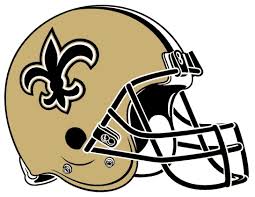 The Saints beat the Carolina Panthers Sunday 31 to 21, leaving the Black and Gold with a 9-3. Fans in the Crescent City were fired up after watching the game and had lots to say about rookie running back Alvin Kamara, who scored two touchowns.
More
Saints, Panthers, Black and Gold, Falcons
---
Next Entry