Posted on 6/22/2018 11:34:00 AM.
The U.S. Supreme Court has ruled that states will now be able to collect sales taxes from online sales. The ruling gives states the authority to receive sales tax revenues on purchases made by consumers with a business that has no physical presence in that state.
However, Tax Foundation spokesperson John Buhl says Louisiana's sales tax laws are too complex for them to take advantage of this ruling.
More
U.S. Supreme Court, Sales taxes, John Buhl, Tax Foundation
---
Posted on 6/21/2018 5:24:00 AM.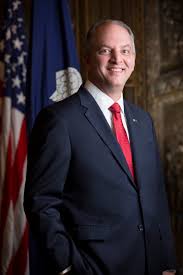 A vote on the House floor is expected today on three different sales tax bills that raise different amounts of money and they renew up to a half-cent of an expiring one-cent sales tax. Governor John Bel Edwards remains optimistic one of those bills will reach his desk, if not significant cuts will occur.
"For the first time in a long time you are seeing cuts to the National Guard, the department of veteran's affairs. But it's also higher education, right now higher education is in line for a 95 million dollar cut."
More
John Bel Edwards, Special Session, Sales Taxes
---
Posted on 4/10/2018 3:44:00 AM.
A 24-7 Wall Street report shows Louisiana taxpayers are tied for fifth in the least amount of taxes paid to local and state governments. LSU economist Doctor Jim Richardson says this state has been a low tax state for years.

Jim Richardson, taxes, 24-7 Wall Street, sales taxes, income taxes, Louisiana
---
Posted on 12/28/2016 3:51:00 AM.
Amazon's new policy of collecting sales tax in Louisiana has upset a lot of Louisiana residents, including Senator-elect John Kennedy. He says many state lawmakers are dancing at the Capitol because they'll have more money to spend, at the expense of Louisiana taxpayers.
More
John Kennedy, Amazon, sales taxes
---
Posted on 7/15/2015 4:04:00 AM.
Louisiana has moved past Alabama for the third highest average combined state and local sales tax. That's according to the Tax Foundation, who puts together a report every July on sales tax rates. Economist Scott Drenkard says Louisiana ranks high on their list, because it has the highest average local tax rate in the country.
Tax Foundation, sales taxes, homestead exemption
---
Posted on 8/29/2013 4:00:00 AM.
New data from the non-partisan Tax Foundation lists Louisiana among the top five highest combined state sales taxes in the nation. Our state ranks 3rd, with consumers paying an average 8.89-percent in state and local sales tax. State Treasurer John Kennedy says he's not surprised. He says Louisiana has been among the nation's highest for many years.
Johh Kennedy, sales taxes, Louisiana revenue
---