Posted on 2/25/2017 11:59:00 AM.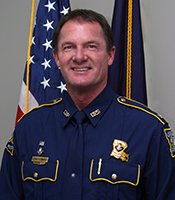 Colonel Mike Edmonson has no plans to resign even though U.S. Senator John Kennedy is calling on the head of the LSP to step down as result of four troopers charging the state overtime and hotel expenses while taking a side trip to Las Vegas and the Grand Canyon. Edmonson says Kennedy doesn't have the facts.
John Kennedy, Mike Edmonson, resign, John Bel Edwards, side trips, San Diego
---
Posted on 1/28/2016 2:37:00 PM.
The alleged child predator who was a popular Monroe television host in the 70s, claims he is not the "Mr. Wonder" that authorities have been looking for. The man identified as Frank Selas was arrested in San Diego for allegedly sexually abusing children during a Louisiana camping trip in 1979. Deputy US Marshal Steve Jurman, based in San Diego, says it's mind blowing the access to kids this man had since 1985 in California.
Mr. Wonder, Frank Selas, child predator, Monroe, Steve Jurman, San Diego
---