Posted on 12/29/2016 1:42:00 AM.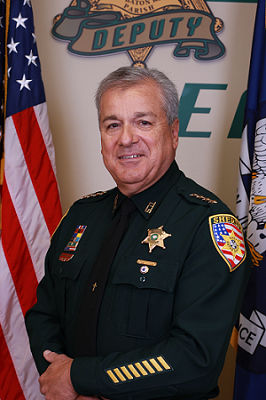 It was a trying year for law enforcement in Baton Rouge. East Baton Rouge Parish Sheriff Sid Gautreaux says 2016 will be a year that he'll never forget.
More
EBRSO, Sid Gautreaux, 2016
---
Posted on 8/17/2016 5:54:00 AM.
Curfews are in place in East Baton Rouge, Livingston and Ascension until conditions improve in those parishes. State Police Col. Mike Edmonson says the curfews are in place to keep everyone safe. He says law enforcement has also started going door-to-door in flooded areas looking for storm victims.
More
Col. Mike Edmonson, Sid Gautreaux, Jason Ard, curfews
---
Posted on 7/18/2016 5:02:00 PM.
The three law enforcement officers killed in Sunday's ambush attack in Baton Rouge are being remembered today as heroes. Baton Rouge Police Chief Carl Dabadie says Office Matthew Gerald was a devoted husband and father of two and joined the Baton Rouge Police Department in March. Dabadie says Gerald also served in the Marine Corp, the Army, and served three tours in Iraq.
More
BRShooting, ambush, Carl Dabadie, Sid Gautreaux, Matthew Gerald, Montrell Jackson, Brad Garafola, Nick Tullier, Gavin Long
---
Posted on 7/18/2016 4:00:00 AM.
The Baton Rouge police shooting came two days after the funeral of Alton Sterling, a 37-year-old black man fatally shot during a confrontation with two white police officers. The shooting of Sterling set off a series of protests seeking justice. Governor John Bel Edwards says Baton Rouge is hurting, but more violence is not the answer.
(photo of Montrell Jackson)
Six police officers shot, Sid Gautreaux, John Bel Edwards, Matthew Gerald, Montrell Jackson
---
Posted on 8/20/2014 5:40:00 PM.
The East Ba
ton

Rouge Sheriff's office has released a picture of the vehicle that was involved in last weekend's fatal shooting of a seven-year-old boy in Baton Rouge. Sheriff Sid Gaut

reaux says surveillance video from a nearby residence captured a light-colored, four-door sedan in the area when a shot was fired into another vehicle, killing Terrez Coleman.


More
Terrez Coleman, East Baton Rouge Sheriff's office, Sid Gautreaux
---