Posted on 12/1/2017 7:11:00 AM.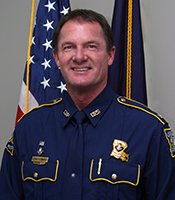 A newly released 300-page State Police report provided to the Advocate, shows former LSP Superintendent Mike Edmonson allegedly knew about side trips several troopers took on their way to a conference in San Diego last year. President of the Metropolitan Crime Commission Rafael Goyeneche says Edmonson asked for an internal investigation only after the media became involved.
Mike Edmonson, State Police, Advocate, side trip, Las Vegas
---
Posted on 11/14/2017 1:53:00 PM.
State Police is investigating an officer involved shooting in which they say a Baton Rouge cop shot and killed a man during a struggle when escorting a state child welfare case worker. Senior Trooper Bryan Lee says, despite rumors circling social media, the man who was killed was not handcuffed when he was shot.
Calvin Toney, Bryan Lee, State Police, Officer involved shooting
---
Posted on 10/4/2017 12:51:00 PM.
State Police are awaiting autopsy results on an infant that was found dead in a dumpster in Tensas Parish. Media reports say the grisly discovery was made at Tensas Elementary School. Senior Trooper Michael Reichardt says once the autopsy is completed they'll have a better idea what happened
.
Tensas Parish, infant found, dumpster, State Police
---
Posted on 8/18/2017 12:23:00 PM.
State Police announces its 96th Cadet Class will begin at the LSP Training Academy this Sunday. For about 20 weeks, thirty-six men and women, hailing from a variety of backgrounds, will officially begin an intensive training regimen. Sgt. Jared Sandifer.
state police, jared sandifer, cadet class #96, state trooper
---
Posted on 8/17/2017 1:41:00 PM.
State Police say a 2-year-old child has died after being run over by a vehicle in Tangipahoa Parish. Trooper Dustin Dwight says, around 8:30 last night, a large choir group from Mt. Canaan Missionary Baptist had just gotten out of church and were standing in the parking lot.
state police, toddler, Kaleb Dyson
---
Posted on 6/1/2017 2:00:00 PM.
State Police say they have arrested the man who allegedly struck and killed a 12-year-old boy during a police chase. Trooper Bryan Lee says they were called to investigate at the request of BRPD when officers were conducting a possible narcotics operation.
state police, joshual hilton, bryan lee, sammy lee
---
Posted on 5/2/2017 11:40:00 AM.
A 16-year-old driver who wasn't buckled up has died in a crash after she hit livestock that was standing in the middle of the road near the St. Landry/Evangeline Parish line. State Police Sgt. Jared Sandifer says the female victim is identified as Adrian Johnson of Washington.
Jared Sandifer, State Police, cow, St. Landry Parish, Adrian Johnson
---
Posted on 3/27/2017 1:49:00 PM.
State Police say it was a deadly weekend on Louisiana's roadways. From Friday through Monday morning, troopers investigated 10 fatal crashes that resulted in the deaths of 15 people. Sgt. Jared Sandifer says these tragedies, which also claimed the lives of children and teenagers, were preventable.
state police, jared sandifer, fatal crashes
---
Posted on 3/21/2017 6:05:00 PM.
The suspect accused in the shooting death of Sgt. Shawn Anderson with the East Baton Rouge Parish Sheriff's office has died. State Police Trooper Bryan Lee says 30-year-old Brandon Wiley was pronounced dead at around 5 PM on Tuesday. He was listed in critical condition after he was injured from the gunfire exchange between him and the fallen deputy. It happened Saturday night at a hair salon as officers spoke with Wiley who was a suspect in a rape.
Bryan Lee, Brandon Wiley, Shawn Anderson, East Baton Rouge Parish Sheriff's Office, State Police
---
Posted on 2/21/2017 1:38:00 PM.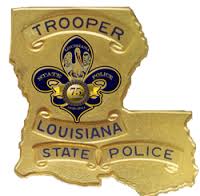 Michelle Southern reporting.
Governor John Bel Edwards orders a full investigation into trips made by State Police officers, amid a report 4 troopers took side excursions to Las Vegas and the Grand Canyon during a business trip on the taxpayer's dime. The Division of Administration's auditor will conduct the probe.
state police, governor's office, Louisiana, mike edmonson, clancy dubos
---
Next Entry