Posted on 6/1/2017 2:00:00 PM.
State Police say they have arrested the man who allegedly struck and killed a 12-year-old boy during a police chase. Trooper Bryan Lee says they were called to investigate at the request of BRPD when officers were conducting a possible narcotics operation.
state police, joshual hilton, bryan lee, sammy lee
---
Posted on 5/2/2017 11:40:00 AM.
A 16-year-old driver who wasn't buckled up has died in a crash after she hit livestock that was standing in the middle of the road near the St. Landry/Evangeline Parish line. State Police Sgt. Jared Sandifer says the female victim is identified as Adrian Johnson of Washington.
Jared Sandifer, State Police, cow, St. Landry Parish, Adrian Johnson
---
Posted on 3/27/2017 1:49:00 PM.
State Police say it was a deadly weekend on Louisiana's roadways. From Friday through Monday morning, troopers investigated 10 fatal crashes that resulted in the deaths of 15 people. Sgt. Jared Sandifer says these tragedies, which also claimed the lives of children and teenagers, were preventable.
state police, jared sandifer, fatal crashes
---
Posted on 3/21/2017 6:05:00 PM.
The suspect accused in the shooting death of Sgt. Shawn Anderson with the East Baton Rouge Parish Sheriff's office has died. State Police Trooper Bryan Lee says 30-year-old Brandon Wiley was pronounced dead at around 5 PM on Tuesday. He was listed in critical condition after he was injured from the gunfire exchange between him and the fallen deputy. It happened Saturday night at a hair salon as officers spoke with Wiley who was a suspect in a rape.
Bryan Lee, Brandon Wiley, Shawn Anderson, East Baton Rouge Parish Sheriff's Office, State Police
---
Posted on 2/21/2017 1:38:00 PM.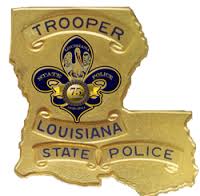 Michelle Southern reporting.
Governor John Bel Edwards orders a full investigation into trips made by State Police officers, amid a report 4 troopers took side excursions to Las Vegas and the Grand Canyon during a business trip on the taxpayer's dime. The Division of Administration's auditor will conduct the probe.
state police, governor's office, Louisiana, mike edmonson, clancy dubos
---
Posted on 1/31/2017 12:12:00 PM.
Michelle Southern reporting.
Case data has recently been released on the number of human trafficking reports received in Louisiana in 2016 and it shows a significant increase. According to the National Human Trafficking Hotline, 104 cases of human trafficking were called in last year, compared to 75 in 2015.
human trafficking, national human trafficking hotline, mike edmonson, state police
---
Posted on 1/29/2017 4:35:00 PM.
State Police say nearly two million dollars worth of drugs are off the streets of Central Louisiana as the result of the arrest of an Alexandria man. Trooper Scott Moreau says earlier this month detectives began investigating 37-year-old Derrick Felton for distribution of methamphetamine and he was taken into custody during a traffic stop.
Drug bust, Derrick Felton, State Police, Scott Moreau, Alexandria, crystal metamphetamine
---
Posted on 11/7/2016 3:33:00 AM.
Training is underway for the 95th cadet class of the Louisiana State Police Training Academy. 65 men and women are participating in the intensive training regimen. Sgt. Jared Sandifer says these individuals have embarked on a difficult 22 week journey where cadets learn about crash investigations, impaired driving detection, leadership skills and more.
More
State Police, LSP, cadet, Louisiana State Police Training Academy, Jared Sandifer
---
Posted on 9/13/2016 10:36:00 AM.
Louisiana State Police has arrested a Slidell man on 500 counts of Possession of Child Pornography. Trooper Dustin Dwight says 73-year-old Lanier Lively was sharing pornographic files involving juveniles over the internet. He says after executing a search warrant of his house, authorities found massive amounts of suspected child pornography.
More
Slidell, State Police, child pornography, Dustin Dwight, Lanier Lively
---
Posted on 8/28/2016 4:49:00 PM.
Two people are dead and 30 injured after a party bus driven by an illegal resident smashed into a fire truck and other vehicles on I-10 in St. John the Baptist Parish near LaPlace. State Police Trooper Melissa Matey says the bus hit a fire truck that responded to an earlier single vehicle wreck
.
State Police, Bus Crash, LaPlace, Dannis Yasmir Rodriguez, I-10
---
Next Entry