Posted on 3/1/2018 6:10:00 AM.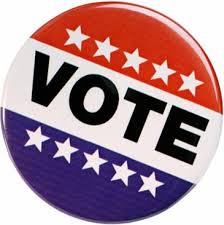 A Mason Dixon Polling and Strategy poll finds Democratic Governor Edwards has a 55% approval rating, 31% disapprove and 14% say they are unsure. Pollster Brad Coker says the high approval rating doesn't mean Edward will be re-elected in 2019, if his opponents are either popular Republicans Steve Scalise or John Kennedy.
More
Mason Dixon Polling & Strategy, Louisiana Governor race, John Bel Edwards, John Kennedy, Steve Scalise, Brad Coker
---
Posted on 1/9/2018 2:17:00 PM.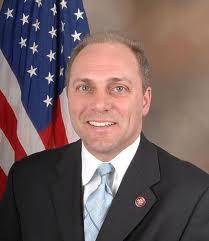 House Majority Whip Steve Scalise is undergoing another surgery Wednesday as he continues his recovery from a gunshot wound suffered last June while practicing for a charity baseball game. The bullet struck several of the Congressman's internal organs. LSU Health Level One Trauma Center's Medical Director Dr. John Hunt says it's common for shooting victims with serious injuries to undergo another surgery
.
Steve Scalise, John Hunt, 2018 legislative session
---
Posted on 12/29/2017 7:01:00 AM.
Michelle Southern reporting.
Louisiana Radio Network looks back at our biggest stories in 2017. One of the most gripping which made national headlines was the death of LSU pledge Max Gruver on September 14th. LSU Officials said Gruver died during an alleged hazing incident, and a month later East Baton Rouge Parish Coroner Dr. Beau Clark said the student had a blood alcohol level of .495.
Max Gruver, Steve Scalise, Confederate Monuments, hazing, Karen Peterson, Jenna Bernstein, Paul Ryan, Beau Clark
---
Posted on 11/16/2017 1:18:00 PM.
The U.S. House approved the Tax Cuts and Jobs Act, which Republicans say will lower tax rates at all income levels and lower the corporate tax rate.
House Majority Whip Steve Scalise says too many companies are moving overseas to do business because it's too expensive in the U.S. He adds this legislation will make it easier for everyday Americans to do their own taxes.
More
U.S. House, Steve Scalise, Tax Cuts and Jobs Act
---
Posted on 11/13/2017 12:07:00 PM.
LSU Athletics Director Joe Alleva says the elimination of a tax break in the GOP tax reform bills could be disastrous for big-time collegiate athletics. LSU and many other schools require donations to purchase tickets to athletic events and Alleva is concerned those donations will go away, if fans can no longer claim 80% of the donation as a tax deduction.
More
LSU, Joe Alleva, GOP tax plan, Tradition Fund, Steve Scalise
---
Posted on 11/9/2017 12:59:00 PM.
The five police officers at the baseball field in Alexandria, Virginia, where U.S. House Majority Whip Steve Scalise was shot, have received the Capitol Police Medal of Honor. Scalise, who was critically injured, says these individuals risked their lives and ran towards the danger knowing they were outgunned.
More
Steve Scalise, Capitol Police, Baseball shooting, medal of honor
---
Posted on 10/20/2017 3:46:00 AM.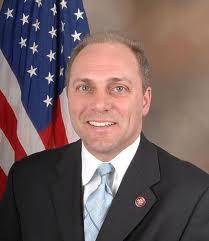 Louisiana Congressman Steve Scalise is hopeful that President Trump's tax reform package will be passed, giving relief to millions of American's pocketbooks. The House Majority Whip says the Republican's proposal will simplify the tax code bringing a couple of benefits.
tax reform, President Trump, Steve Scalise
---
Posted on 7/26/2017 2:49:00 PM.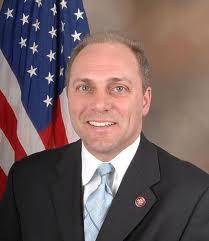 House Majority Whip Steve Scalise of Jefferson Parish has been discharged from MedStar Washington hospital to begin "intensive inpatient rehabilitation.
Scalise's doctors say the Congressman has made excellent progress in his recovery from a life-threatening gunshot wound to the hip six weeks ago.
Steve Scalise, discharged, rehabilitation
---
Posted on 7/25/2017 11:06:00 AM.
Michelle Southern reporting.
Alabama Republican Congressman Mo Brooks is making waves with a campaign commercial in which he uses audio from the shooting at the GOP baseball game that injured House Majority Whip Steve Scalise. The ad notes Brooks came to the aid of those wounded in the attack at a Virginia baseball park.
Mo Brooks, Steve Scalise, Congressional Shooting, Silas Lee
---
Posted on 7/14/2017 5:30:00 AM.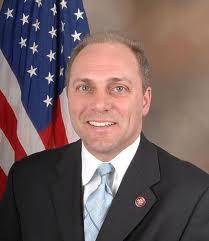 It's been one month since House Majority Whip Steve Scalise was shot at a Virginia ballpark. The Jefferson Parish Congressman continues to recover from a gunshot wound to the hip sustained in a shootout on members of Congress. Baton Rouge Congressman Garret Graves says he's been in touch with Scalise and his family throughout this ordeal.
More
Garret Graves, Steve Scalise, Ed Orgeron, shooting
---
Next Entry