Posted on 11/16/2017 1:18:00 PM.
The U.S. House approved the Tax Cuts and Jobs Act, which Republicans say will lower tax rates at all income levels and lower the corporate tax rate.
House Majority Whip Steve Scalise says too many companies are moving overseas to do business because it's too expensive in the U.S. He adds this legislation will make it easier for everyday Americans to do their own taxes.
More
U.S. House, Steve Scalise, Tax Cuts and Jobs Act
---
Posted on 11/13/2017 12:07:00 PM.
LSU Athletics Director Joe Alleva says the elimination of a tax break in the GOP tax reform bills could be disastrous for big-time collegiate athletics. LSU and many other schools require donations to purchase tickets to athletic events and Alleva is concerned those donations will go away, if fans can no longer claim 80% of the donation as a tax deduction.
More
LSU, Joe Alleva, GOP tax plan, Tradition Fund, Steve Scalise
---
Posted on 11/9/2017 12:59:00 PM.
The five police officers at the baseball field in Alexandria, Virginia, where U.S. House Majority Whip Steve Scalise was shot, have received the Capitol Police Medal of Honor. Scalise, who was critically injured, says these individuals risked their lives and ran towards the danger knowing they were outgunned.
More
Steve Scalise, Capitol Police, Baseball shooting, medal of honor
---
Posted on 10/20/2017 3:46:00 AM.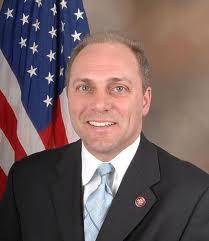 Louisiana Congressman Steve Scalise is hopeful that President Trump's tax reform package will be passed, giving relief to millions of American's pocketbooks. The House Majority Whip says the Republican's proposal will simplify the tax code bringing a couple of benefits.
tax reform, President Trump, Steve Scalise
---
Posted on 7/26/2017 2:49:00 PM.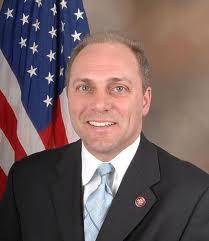 House Majority Whip Steve Scalise of Jefferson Parish has been discharged from MedStar Washington hospital to begin "intensive inpatient rehabilitation.
Scalise's doctors say the Congressman has made excellent progress in his recovery from a life-threatening gunshot wound to the hip six weeks ago.
Steve Scalise, discharged, rehabilitation
---
Posted on 7/25/2017 11:06:00 AM.
Michelle Southern reporting.
Alabama Republican Congressman Mo Brooks is making waves with a campaign commercial in which he uses audio from the shooting at the GOP baseball game that injured House Majority Whip Steve Scalise. The ad notes Brooks came to the aid of those wounded in the attack at a Virginia baseball park.
Mo Brooks, Steve Scalise, Congressional Shooting, Silas Lee
---
Posted on 7/14/2017 5:30:00 AM.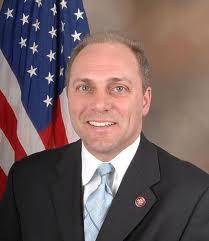 It's been one month since House Majority Whip Steve Scalise was shot at a Virginia ballpark. The Jefferson Parish Congressman continues to recover from a gunshot wound to the hip sustained in a shootout on members of Congress. Baton Rouge Congressman Garret Graves says he's been in touch with Scalise and his family throughout this ordeal.
More
Garret Graves, Steve Scalise, Ed Orgeron, shooting
---
Posted on 6/21/2017 11:25:00 AM.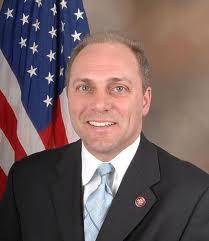 The FBI announced at a briefing this morning, James Hodgkinson, the man who allegedly shot Congressman Steve Scalise at a baseball practice last week, has no ties to terrorism. Hodgkinson was shot by Capitol Police Officers and later died at a Washington D.C. hospital. FBI Special Agent Tim Slater says the shooter acted alone and has a history of anger problems.
More
FBI, Tim Slater, Steve Scalise, James Hodgekinson
---
Posted on 6/19/2017 12:56:00 PM.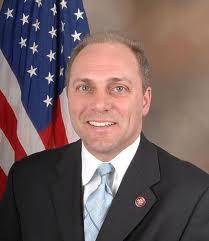 Michelle Southern reporting.
Wounded Congressman Steve Scalise was elected US House Majority Whip three years ago, and experts say that no matter his condition, the lawmaker from Jefferson Parish still has a bright political future. Analyst Clancy DuBos says Scalise is a classic Louisiana politician in the best and highest sense.
Steve Scalise, mass shooting, clancy dubos, house majority whip,
---
Posted on 6/17/2017 5:55:00 PM.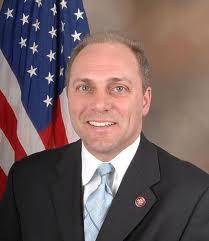 U.S. Representative Steve Scalise is now in serious condition and talking with loved ones as he continues his long recover from a gunshot wound to the left hip.


In the latest update from MedStar Washington Hospital Center, Scalise underwent another surgery on Saturday, but continues to show signs of improvement. He is also more responsive.
Steve Scalise, MedStar, Jack Sava
---
Next Entry