Posted on 4/21/2017 10:06:00 AM.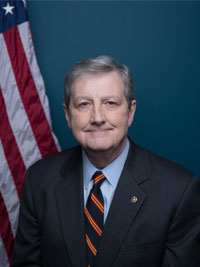 U.S. Senators John Kennedy and Bill Cassidy met with a Trump administration official this week about providing Louisiana an additional $2-billion in federal flood aid. Kennedy says they asked the director of the Office of Management and Budget, Mick Mulvaney, to include the $2 billion in a budget bill that needs to pass to keep the federal government running through September.
More
John Kennedy, The Great Flood of 2016, Congress, flood recovery
---
Posted on 8/24/2016 11:48:00 AM.
The Greater Baton Rouge Food Bank received more than four feet of water, lost a million pounds of food, along with the majority of its equipment during the Great Flood of 2016. President and CEO Mike Manning says with the hard work and donations from the Salvation Army and other food banks, they're back online distributing food.
More
Greater Baton Rouge Food Bank, Mike Manning, Salvation Army, The Great Flood of 2016, flooding
---