Posted on 7/19/2018 2:24:00 PM.
Louisiana's Republican Congressional Delegation is lashing out against US Senate Democrats who blocked a House resolution from Congressman Clay Higgins that endorses the Immigration and Customs Enforcement Agency, or ICE. Higgins says the movement to abolish ICE endangers national security and threatens ICE agents.
More
ICE, Congressman Steve Scalise, U.S. Senate
---
Posted on 7/25/2017 12:01:00 PM.
Both of Louisiana's U.S. Senators have voted in favor of debate on a healthcare bill. Senior Senator Bill Cassidy has authored amendments to the GOP replacement bill, but they haven't gained much support.
More
Pearson Cross, U.S. Senate, Affordable Care Act
---
Posted on 5/18/2017 2:52:00 AM.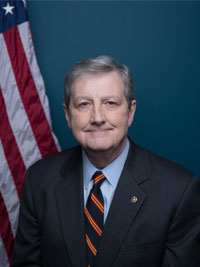 U.S. Senator John Kennedy spoke on the Senate floor touting a Medicaid reform bill that he has filed. Kennedy says it would require adults ages 18 to 55, that have no dependents and are not disabled, to work 20 hours a week, go to school or do community service to receive Medicaid.
More
John Kennedy, U.S. Senate, Medicaid reform
---
Posted on 12/11/2016 10:12:00 AM.
Republican John Kennedy's victory in the U.S. Senate race gives the GOP a larger majority in the upper chamber, 52 Republicans and 48 Democrats. ULM political science professor Dr. Joshua Stockley says this is an important win for Republicans because it gives them a larger cushion to deal with issues as they arise in the Senate.
More
U.S. Senate, John Kennedy, ULM, Joshua Stockley
---
Posted on 12/11/2016 3:07:00 AM.
Now that Republican State Treasurer John Kennedy has been elected as U.S. Senator, he plans to tackle some of Louisiana's problems in Washington D.C. Kennedy says it's time for a change and the first thing he will fight for is additional relief for our flood victims.
More
U.S. Senate, John Kennedy, election
---
Posted on 12/9/2016 10:48:00 AM.
A new poll conducted by the University of New Orleans Survey Research Center finds Republican U.S. Senate candidate John Kennedy continues to have a huge lead over Democrat Foster Campbell in Saturday's election.
More
UNO, Ed Chervenak, poll, U.S. senate
---
Posted on 11/9/2016 12:12:00 PM.
Democrat Foster Campbell is gearing up to face Republican State Treasurer John Kennedy in the December 10th U.S. Senate runoff. Analysts says Kennedy is the favorite to win but Campbell hopes his position as a non-political insider will resonate with voters.
More
John Kennedy, Foster Campbell, U.S. Senate, runoff
---
Posted on 11/9/2016 12:05:00 AM.
State Treasurer John Kennedy is the lead vote getter in the US Senate primary, pulling 25% of the vote. Kennedy says he goes into the runoff with the same message he had when he entered the race.
More
U.S. Senate, Foster Campbell, John Kennedy
---
Posted on 9/9/2016 12:57:00 PM.
Two new polls have been released on the state's U.S. Senate race. UL-Lafayette Political Science Professor Pearson Cross says the survey conducted by The Remington Research Group and The Hayride confirms what we've been hearing, with Republican Treasurer John Kennedy with a comfortable lead.
More
U.S. Senate, Pearson Cross, John Kennedy, Charles Boustany, Caroline Fayard
---
Posted on 9/8/2016 3:15:00 AM.
Republican Congressman John Fleming launches a seven figure statewide TV ad for the U.S. Senate race. Jeremy Alford of LaPolitics.com says Fleming is a U.S. Representative for north Louisiana who doesn't have much name recognition outside of his district.
More
John Fleming, LaPolitics.com, John Kennedy, Caroline Fayard, Campbell Foster, Charles Boustany, U.S. Senate
---
Next Entry