Posted on 6/25/2018 5:00:00 AM.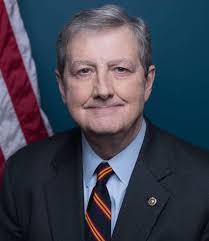 A group of Republican US Senators will head to Russia this week, including Louisiana's John Kennedy. Kennedy says he wants to establish some rapport with high-ranking government officials and he hopes one of those meetings with include Russian President Vladimir Putin.
"We will probably talk about trade and I want to see and I know the other Senators do as well, we are anxious to learn more about the Russian economy," said Kennedy. More
John Kennedy, Russia, US Senate
---
Posted on 11/1/2017 1:38:00 PM.
When it comes to popularity in Congress, both of Louisiana's US Senators rank right about in the middle, according to a new Morning Consult poll. US Senator John Kennedy is ranked 39th out of 100 Senators, and Senator Bill Cassidy was number 62.
US Senate, John Kennedy, Bill Cassidy, Joshua Stockley, ULM, Morning Consult
---
Posted on 7/12/2017 11:22:00 AM.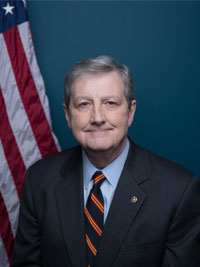 Senate leaders have delayed the August Congressional recess, and US Senator John Kennedy is thrilled lawmakers will work the first two weeks of next month. He says the Senate hasn't accomplished as much as he would like, and he would feel guilty about taking an entire month off work.
More
John Kennedy, US Senate, healthcare, Obamacare
---
Posted on 1/3/2017 3:24:00 AM.
Tuesday in Washington D.C, John Kennedy will be sworn into the 115th Congress of the United States as Louisiana's newest Senator. The former state treasurer says he intends to hit the ground running.
"We'll be dealing with issues like flood control, flood relief for Louisiana," said Kennedy. "We'll be dealing with issues for America like tax reform and lowering taxes."
john kennedy, us senate, louisiana
---
Posted on 12/19/2016 4:58:00 AM.
US Senator David Vitter has just two weeks left in office before Senator-elect John Kennedy is sworn in on January 3. Vitter says representing and serving the people of Louisiana has been the greatest honor of his professional life. He says he's most proud of his work in the post-Katrina recovery, as Hurricanes Katrina and Rita hit the coast just months after Vitter was sworn in as a Senator.
More
David Vitter, US Senate, term limits, Katrina
---
Posted on 12/5/2016 4:56:00 PM.
Senator David Vitter gave his farewell speech on the Senate floor Monday, as he will leave the office he's held since January 2005. Vitter says as a Louisiana state legislator he worked to impose term limits here, as well as authoring the leading term limits measure for Congress. He says that's why he's imposing one on himself.
More
David Vitter, US Senate, term limits,
---
Posted on 12/5/2016 1:10:00 PM.
A new survey out of Tulane reveals US Senate candidate Republican John Kennedy has a healthy lead in the race against Democrat Foster Campbell in the runoff. Brian Brox, associate professor of Political Science, says they found 59% of respondents said they would vote for Kennedy, while 40% said Campbell is their choice.
tulane, brian brox, us senate, john kennedy, foster campbell
---
Posted on 7/14/2016 2:36:00 AM.
The two major democrats in the U.S. Senate race are laying out their ideas about what they will do if elected to the seat being vacated by David Vitter. Attorney Caroline Fayard, who is the youngest candidate in the race, says she's trying to outwork the other candidates. She says she will bring a fresh voice and a new message to D.C.
More
Caroline Fayard, David Vitter, Foster Campbell, US Senate, democrats
---
Posted on 6/9/2016 10:56:00 AM.
US Senator David Vitter has joined 44 other Senators in an attempt to block implementation of the Obama Administration's overtime rule, which doubles the salary threshold under which employees qualify for overtime pay. Vitter says this will drastically impact small businesses, particularly in Louisiana, as well as employees.
More
David Vitter, overtime rule, US Senate
---
Posted on 5/18/2016 12:44:00 PM.
Democratic US Senate candidate Foster Campbell held a press conference today in Baton Rouge to discuss what he would do if elected as our U.S. Senator. Campbell says we need to address coastal restoration in Louisiana.
More
Foster Campbell, US Senate, coastal restoration, minimum wage, internet
---
Next Entry