Posted on 10/4/2018 6:00:00 AM.
Louisiana Congressman Ralph Abraham is asking the U.S. Department of Agriculture to help soybean farmers who have no place to put their crop, because silos are full as a result of the trade dispute with China.
Abraham says farmers must choose between harvesting soybeans with no place to bring them or letting them rot in the fields.
More
Soybean, Agriculture, Congressman Ralph Abraham, USDA
---
Posted on 12/27/2017 12:03:00 PM.
The US Department of Agriculture will begin testing a new method for controlling the rampant feral hog population. Texas and Alabama were chosen for a pilot program involving a new poison bait that officials hope will target the swine, without damaging local ecosystems. Louisiana Ag Commissioner Mike Strain says the Sodium Nitrite targets red blood cells to incapacitate the pigs.
USDA, Swine, Research, Mike Strain, Sodium nitrite
---
Posted on 9/21/2017 2:13:00 PM.
A new report from the USDA finds there are over 41 million Americans, including 13 million children, who lived at risk of hunger in 2016. Bread for the World, a movement in the US to end hunger, broke the numbers down by state, and found that Louisiana is the second hungriest in the nation.
David Beckmann, USDA, Bread for the World
---
Posted on 6/26/2017 11:24:00 AM.
The LSU AgCenter receives nearly one million dollars from the USDA for honeybee research. Entomologist Kristen Healy says any given year there's higher than normal losses in honeybee colonies, and many studies look at what stressors contributes to these losses. One factor they'll look at is the mite population in the hives.
More
Kristen Healy, LSU AgCenter, honeybees, USDA, research
---
Posted on 8/5/2016 10:43:00 AM.
The 17th annual National Farmers Market Week kicks off Saturday in Alexandria at Inglewood Farms and runs until the 13th. USDA State Conservationist Kevin Norton says this is an opportunity to celebrate the connection that these markets bring for farmers and agriculture in urban settings.
More
National Farmers Market Week, USDA, produce, farmers, Kevin Norton
---
Posted on 4/29/2016 12:25:00 PM.
Investigators from the U.S. Department of Agriculture are looking into the number of animal deaths that have recently occurred at the Baton Rouge Zoo. Curator Sam Winslow says they asked for the USDA and the American Zoo Association to send in officials to assess the situation after 18 animals have died in the last year.
More
USDA, American Zoo Association, Baton Rouge Zoo, Sam Winslow, giraffe, tiger
---
Posted on 12/3/2015 5:20:00 AM.
Michelle Southern reporting.
The United States Department of Agriculture (USDA) has unveiled new rules for catfish. The mandate requires stricter inspection standards for the product before it can be sold as food.
catfish, usda
---
Posted on 12/12/2013 10:04:00 AM.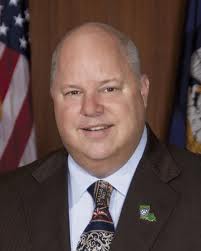 Assistance in recovering from last summer's severe drought will soon be available to farmers and ranchers in over 20 Louisiana parishes. The U.S. Department of Agriculture made the declaration Wednesday for parishes mostly in northern, western and central Louisiana. Ag Commissioner Dr. Mike Strain advises farmers to call their nearby Farm Service Agency to get more information on applying for the disaster assistance.
Mike Strain, USDA, drought, disaster relief
---