Posted on 5/8/2018 12:23:00 PM.
A
bill
allowing
Uber to operate across the state has been shelved. The bill would have created a statewide set of regulations that would allow rideshare services to operate without needing local authorization.
Lyft Public Policy Manager Jonathan Buckner tried to reassure lawmakers that the service is safe, and offers multiple ways to ensure a trustworthy ride around town.
Uber, Rideshares, Local regulations, Public Policy
---
Posted on 4/18/2018 11:27:00 AM.
On a 97-1 vote, the House passed legislation that would permit companies like Uber to operate across the state, without needing to make local agreements. The bill, by Speaker Taylor Barras, would bring Louisiana in line with the vast majority of other state's rideshare regulations. Barras says it's a big benefit with a small price tag.
More
Uber, Lyft, Louisiana, regular session, legislation, Taylor Barras
---
Posted on 12/19/2017 12:10:00 PM.
A report from the University of Kansas finds Uber customers are increasingly using the App based ride service for trips to the emergency room, in an effort to cut down on the costs associated with riding in an ambulance. Chief of Emergency Medicine at LSU Health New Orleans, Dr. Keith Van Meter, says he sympathizes with patience's desire to save money, but warns that there's some things an Uber just can't do.
Uber, healthcare, study
---
Posted on 9/20/2017 6:06:00 PM.
After a long wait, the car-sharing service, Uber, is finally available in Monroe, West Monroe and areas governed by Ouachita Parish. Monroe Mayor Jamie Mayo says his office has spent the last six months working on a contract with Uber and he knows the city is excited it's finally official.
More
Uber, Jamie Mayo, Monroe
---
Posted on 5/30/2017 5:12:00 PM.
A bill to put statewide regulations on ride-sharing services like Uber and Lyft is dead for the session. Jackson Representative Kenny Havard filed the bill in an effort to have standard rules, with the hope these companies would expand to smaller cities.
More
Kenny Havard, Uber, Lyft, regular session
---
Posted on 5/18/2017 10:43:00 AM.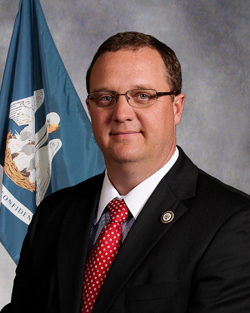 A bill to regulate Uber and Lyft statewide is heading to the Senate. Jackson Representative Kenny Havard says these ride sharing services keep people safe, offers an affordable ride, and provides thousands of employment opportunities. He says very rarely do lawmakers get a chance to do something that really affects people's lives.
More
Kenny Havard, Uber, Lyft, Troy Carter, Jay Morris
---
Posted on 4/5/2017 12:02:00 PM.
A measure that would place statewide regulations for services like Uber and Lyft has been filed for the upcoming legislative session. Currently, each parish decides the rules for how ride sharing companies should operate. Jackson Representative Kenny Havard says his bill would eliminate confusion.
More
Uber, Lyft, ride sharing, legislative session, Kenny Havard
---
Posted on 6/26/2014 12:21:00 PM.
Michelle Southern reporting.
Baton Rouge is about to become the first city in Louisiana to implement a new rideshare service after the measure was approved at the metro council meeting Wednesday. The ordinance, which goes into effect in 12 days, would allow companies like Uber into the Baton Rouge market. Brian Trascher is a lobbyist for Uber.
More
rideshare, baton rouge, uber
---