Posted on 5/18/2017 10:43:00 AM.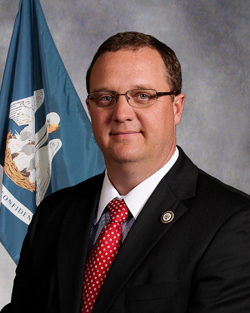 A bill to regulate Uber and Lyft statewide is heading to the Senate. Jackson Representative Kenny Havard says these ride sharing services keep people safe, offers an affordable ride, and provides thousands of employment opportunities. He says very rarely do lawmakers get a chance to do something that really affects people's lives.
More
Kenny Havard, Uber, Lyft, Troy Carter, Jay Morris
---
Posted on 4/5/2017 12:02:00 PM.
A measure that would place statewide regulations for services like Uber and Lyft has been filed for the upcoming legislative session. Currently, each parish decides the rules for how ride sharing companies should operate. Jackson Representative Kenny Havard says his bill would eliminate confusion.
More
Uber, Lyft, ride sharing, legislative session, Kenny Havard
---
Posted on 6/26/2014 12:21:00 PM.
Michelle Southern reporting.
Baton Rouge is about to become the first city in Louisiana to implement a new rideshare service after the measure was approved at the metro council meeting Wednesday. The ordinance, which goes into effect in 12 days, would allow companies like Uber into the Baton Rouge market. Brian Trascher is a lobbyist for Uber.
More
rideshare, baton rouge, uber
---