Posted on 10/13/2017 2:17:00 PM.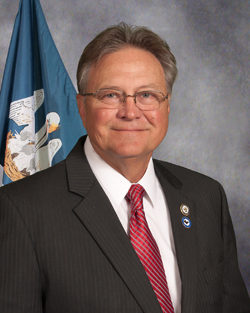 Louisiana legislators met for a one day retreat this week to consider what needs to be done to prevent falling off a fiscal cliff. The state is facing a 1-point-38-billion dollar cut in funding when extra temporary tax revenue ends July 1st. Minden Representative and House Democratic Caucus chairman Gene Reynolds says they are one step closer to resolving the issue.
More
budget cliff, gene reynolds, budget shortfall
---
Posted on 10/12/2017 3:00:00 AM.
Louisiana House members will hold a closed door retreat today in order to try to find a fix for a one-billion-dollar plus state budget gap. Alexandria Representative and GOP House Leader Lance Harris says he and Democratic chairman Gene Reynolds thought it would be a good idea to discuss their options.
Lance Harris, budget shortfall, louisiana budget
---
Posted on 2/10/2016 12:55:00 PM.
Louisiana's budget problems are getting worse. The Revenue Estimating Conference has revised the deficit for this fiscal year from 750-million to 870-million dollars. The legislature's chief economist Greg Albrecht says Louisiana's lagging economy is impacting state tax collections.
Louisiana, Greg Albrecht, budget shortfall
---
Posted on 2/1/2016 5:33:00 PM.
Commissioner of Administration Jay Dardenne says new revenues, possibly from an additional one-cent increase to the state sales tax, are needed to stave off big cuts to public colleges and health care services. Dardenne says they are being honest with the public when they say, just cutting the budget will not solve this fiscal year's 750-million dollar shortfall.
More
Commissioner of Administration, Jay Dardenne, revenue, tax, budget shortfall
---
Posted on 2/11/2015 4:57:00 PM.
Governor Bobby Jindal proposes reducing the size of tax credits in cases where a company or individual receives more money from the state than they owe as a way to balance next fiscal year's budget. Jindal says two of his cabinet secretaries are looking at how this could help the state's fiscal situation.
Bobby Jindal, budget, higher education, health care, budget shortfall
---