Posted on 9/26/2016 12:30:00 PM.
Former LSU football coach Les Miles said he's feeling good one day after his firing. Miles was a guest this morning on the "Dan Patrick Show on DirecTV's Audience." Miles says he was told of his firing during a face-to-face meeting with Athletic Director Joe Alleva and the Tigers former head man said he didn't fight the decision.
les miles, firing, ed oregeron, cam cameron, lsu, joe alleva
---
Posted on 9/26/2016 5:44:00 AM.
After 114 wins, a BCS National Championship and two SEC championships, Les Miles is no longer the head coach at LSU. Miles, along with LSU offensive coordinator Cam Cameron were let go, after a bad loss to Auburn to drop their record to 2-2.
les miles, firing, ed oregeron, cam cameron, lsu, travin dural, jamal adams
---
Posted on 9/25/2016 3:59:00 PM.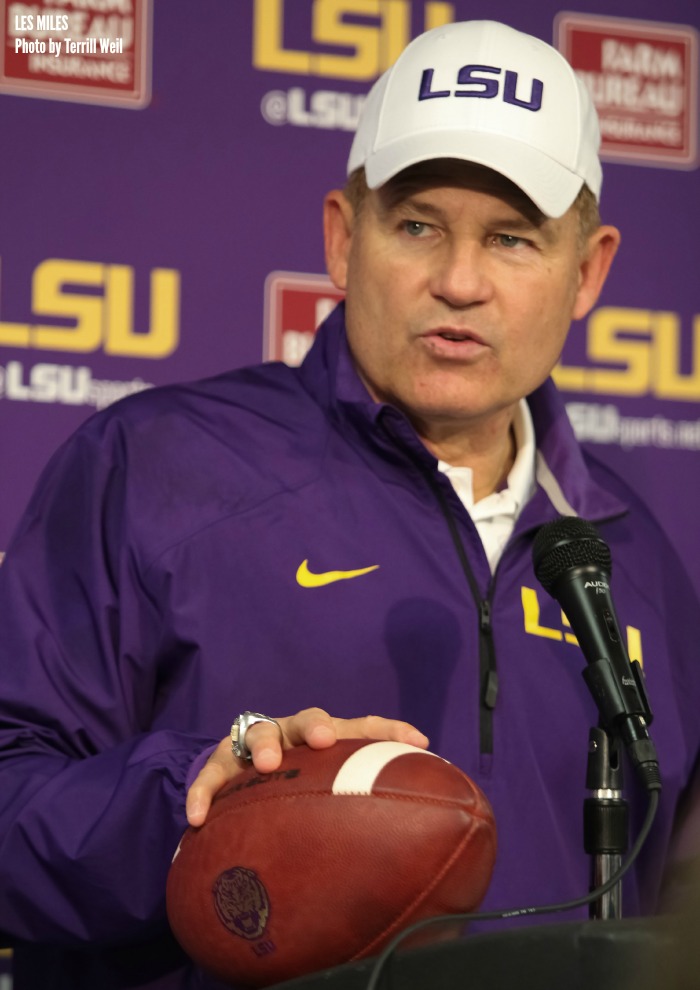 Time ran out on the LSU Tigers on Saturday night in their loss to Auburn and time has also run out on head football coach Les Miles and offensive coordinator Cam Cameron.
Athletic Director Joe Alleva has made the decision to fire Miles and Cameron and name defensive line coach and recruiting coordinator Ed Orgeron interim head coach.
Les Miles, fired, Cam Cameron, Ed Orgeron
---
Posted on 9/6/2016 6:13:00 PM.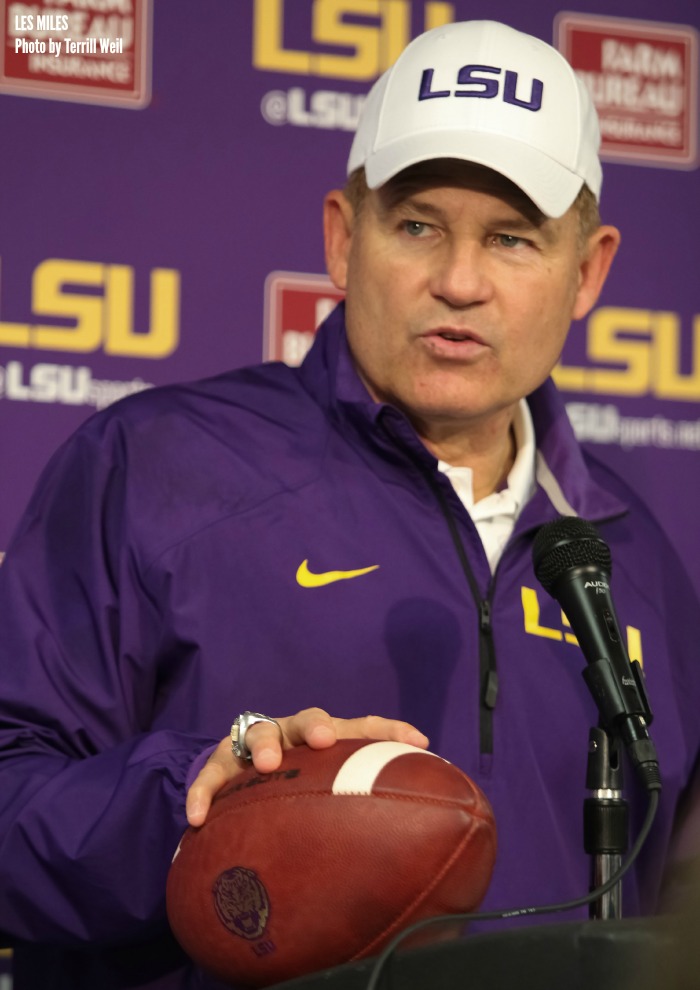 LSU Coach Les Miles is not making any major changes on offense for Saturday's home opener against Jacksonville State. Miles is moving offensive coordinator Cam Cameron from the sidelines to the press box and he'll call plays from above the field. The head coach is not making a change at quarterback, but wants Brandon Harris to be more accurate.
More
Cam Cameron, Les Miles, LSU, Brandon Harris,
---
Posted on 8/29/2015 7:41:00 AM.
LSU offensive coordinator Cam Cameron says he's been diagnosed with prostate cancer, but he's fine and his health is good. Cameron says he's already had it treated.
"Given a clean bill of health, pathology reports are 100%, locked, loaded and ready to go," Cameron said.
Cam Cameron, prostate cancer, LSU Tigers
---
Posted on 8/16/2015 6:13:00 PM.
Through the first major scrimmage of LSU's fall camp, Brandon Harris has the lead over Anthony Jennings in the battle for starting quarterback. Coach Les Miles says Harris received more of the snaps with the first unit during a scrimmage on Saturday night. Harris says the game has slowed down for him as he enters his second season at LSU.
Brandon Harris. LSU, QB, Anthony Jennings, Cam Cameron
---
Posted on 4/6/2014 3:56:00 PM.
Incoming fre
shman quarterback Brandon Harris outperformed soon to be sophomore Anthony Jennings in LSU's spring game on Saturday. Harris was 11-of-28 for 195 yards and threw three touchdowns. He also rushed for 77 yards and a score. But offfensive coordinator Cam Cameron says they are looking for more consistency from Harris.
LSU, Anthony Jennings, Brandon Harris, Cam Cameron
---
Posted on 9/25/2013 3:41:00 PM.
An offensive shootout is expected on Saturday when sixth ranked LSU visits ninth ranked Georgia. Both of these teams are averaging 40 points or more a game. Tigers offensive coordinator Cam Cameron says they will take what the Georgia defense gives them on Saturday.
Cam Cameron, LSU, Georgia
---
Posted on 8/13/2013 4:03:00 AM.
LSU Quarterback Zach Mettenberger had his ups and downs during his first season as a starting quarterback in the SEC. Mettenberger had big games against Alabama and Ole Miss, but failed to throw for 100 yards against Texas A-and-M. The senior expects a more consistent season in 2013, because he feels more comfortable.
Zach Mettenberger, Cam Cameron, LSU
---
Posted on 8/11/2013 4:00:00 PM.
LSU held its a
nnual football media day yesterday and it was the first time reporters had a chance to talk with new offensive coordinator Cam Cameron since the preseason camp started. Many wonder how the offense will change under Cameron, but he says there's one thing that will stay the same and that's the physical toughness.
Cam Cameron, Zach Mettenberger, John Chavis, Anthony Johnson
---