Posted on 1/10/2016 3:52:00 AM.

So what can we expect from Democrat John Bel Edwards once he is sworn in as governor? Political analyst Clancy Dubos says Edwards plans to immediately expand Medicaid and he is going to call a special session to deal with all the fiscal issues in the state.

"He will dedicate all of his attention in the first five or six weeks to that. And then probably spend some time filling out appointments to boards and commissions, he's got his cabinet in place."
governor, John Bel Edwards, Clancy Dubos, challenges
---
Posted on 12/24/2015 4:51:00 AM.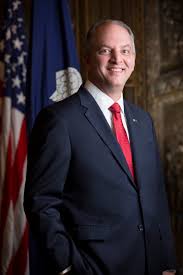 Governor-elect John Bel Edwards knows he has a challenging year in front of him, but he's looking forward to spending the next couple of days with family for the Christmas holiday. Edwards says his family gathering at his mother's home in Tangipahoa Parish on Christmas Eve.
"It's a busy time, because I have five brothers and a sister and we are all going to be there, with our spouses and children. Some of them have grandchildren. We'll have a big gathering there."
John Bel Edwards, Christmas, oyster soup, challenges
---