Posted on 6/27/2017 4:50:00 PM.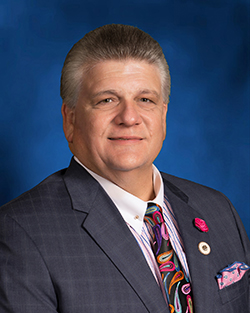 Governor John Bel Edwards vetoes a bill to provide freedom of expression on college campuses. In his veto message, Edwards said the legislation by Alexandria Representative Lance Harris was a solution in search of a problem. But Harris says freedom of speech is under siege on many college campuses around the country.
More
Lance Harris, John Bel Edwards, freedom of speech, colleges
---
Posted on 10/28/2015 4:29:00 PM.
Louisiana's public colleges will ask the new governor and legislature for a significant increase in state funding. The Board of Regents currently receives 769-million in state dollars and its allocated to universities and colleges. Higher education commissioner Joe Ralllo says the board is requesting an additional 636-million dollars next fiscal year to meet the state's workforce demands.
Higher education, funding, Joe Rallo, colleges
---
Posted on 5/20/2015 4:00:00 PM.
Legislation by Hammond Representative Chris Broadwater that would allow state colleges to raise fees for students passes the state House. Gonzales Representative Eddie Lambert wanted assurance from Broadwater that this measure would not affect tuition.
colleges, universities, higher education, fees, Chris Broadwater
---
Posted on 4/22/2015 12:13:00 PM.

Legislation that would give public colleges the authority to raise tuition and fees without legislative approval advanced out of the House Education Committee today. Hammond Representative Chris Broadwater says this legislation is needed because state funding for universities has been on the decline since 2008.
House education, tuition, fees, higher ed, colleges, state funding
---
Posted on 4/15/2015 2:33:00 PM.
Over 100 college students gathered on the steps of the State Capitol today to rally against proposed budget cuts to public universities. Nearly all of Louisiana's colleges were represented and many held up signs that said "No Funding, No Future".
colleges, universities, higher education, rally, David Teagle, Jesse Elliott, Gerald Long
---