Posted on 6/28/2017 5:44:00 PM.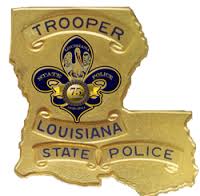 A two-year-old is among the three dead after a car chase ended with a crash in New Orleans east on Wednesday afternoon. Louisiana State Police spokesperson, Trooper Melissa Matey, says state police units attempted to stop the vehicle in downtown New Orleans for a stolen license plate. Matey says the driver fled the scene and collided with a truck and ran off the road.
More
Melissa Matey, LSP, New Orleans, police chase, crash
---
Posted on 1/17/2017 2:16:00 PM.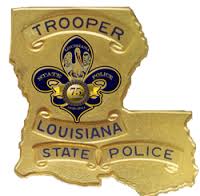 Three people are dead after a fiery crash in Vernon Parish early this morning. State Trooper Scott Moreau says around 1:40 a.m. troopers responded to a crash on Highway 1146 near Rosepine. He says there were three people inside the 2009 Chevy Malibu when the driver apparently veered off the roadway and hit several trees.
More
Scott Moreau, LSP, Vernon Parish, crash
---
Posted on 9/12/2016 10:46:00 AM.
The Louisiana Department of Wildlife and Fisheries is investigating a boat crash in St. Mary Parish that claimed the life of a 7-year-old girl. LDWF Spokesperson Adam Einck says at around 2 p.m. yesterday a bass boat with one passenger, collided with an aluminum vessel carrying four people in Bayou Cheramie. He says the collision caused Jaidyn Montet to hit her head.
More
LDWF, Adam Einck, boat, crash, Bayou Cheramie
---
Posted on 12/8/2015 11:22:00 AM.
State Police are investigating a seven vehicle crash that occurred on I-10 in West Baton Rouge Parish early this morning. Sergeant Nick Manale says the crash happened around 3AM in heavy fog conditions when a passenger vehicle stopped in the roadway.
Louisiana, State Police, crash, West Baton Rouge Parish, I-10, Nick Manale
---
Posted on 5/24/2014 8:05:00 AM.
Three people, including a ten-month-old child were killed in a single vehicle accident Friday afternoon in Sulphur. The Calcasieu Parish Sheriff's office says a car driven by 30-year-old Michael Guillory of Lake Charles traveled across the center line of the road, into and through a ditch before slamming into a cement utility pole.
Calcasieu Parish, Sulphur, crash, Michael Guillory
---
Posted on 5/12/2014 10:01:00 AM.
Michelle Southern reporting.
State Police say a man from Gonzales is under arrest after he drove drunk to Troop A over the weekend. Trooper Jared Sandifer says 31-year-old Patrick Ruffner called LSP to report that he'd been involved in a hit and run accident on I-10. He says the trooepr who took the call told the man to come file a report at the station.
More
louisiana state police, jared sandifer, patrick ruffner, crash, drunk, DWI, Gonzales
---
Posted on 2/17/2014 1:51:00 PM.
Michelle Southern reporting.
The Lafayette High Baseball coach describes the horrific accident that took place in St. Mary Parish Saturday that claimed the life of four people in an SUV that crashed into the school bus he and the players were traveling in. Coach Sam Taulli Jr. says one of the players sustained two crack vertebrae as a result of the crash.
More
lafayette high school baseball team, sam taulli, st. mary parish, state police, crash, amy dore
---
Posted on 2/12/2014 10:44:00 AM.
State Police say they've worked multiple accidents in north Louisiana as the result of the winter weather overnight that caused ice to form on the roadways. Trooper Albert Paxton says currently I-20 is closed between Tallulah and Vicksburg due to a crash on the Mississippi River Bridge involving multiple 18-wheelers.

More
state police, albert paxton, i-20, tallulah, vicksburg, crash
---
Posted on 11/15/2013 1:02:00 PM.
An off
-duty Terrebonne Parish Sheriff's deputy was killed in a fiery crash outside the Southland Mall in Houma on Thursday night. Taylor Segura, 23, was on his motorcycle when a teenage driver pulled out in front of him. State Trooper Evan Harrell says when Segura tried to avoid the collision, the bike struck the drivers side door and both vehicles caught fire.

Deputy, Dies, Crash, Motorcycle, Fire
---