Posted on 1/25/2017 5:47:00 PM.
Walker Police are working to identify a female body that was found under an I-12 bridge. Captain John Sharp says employees of Gravity Draining District Five of Livingston Parish were working to clear debris under the bridge when they made the gruesome discovery.
More
Capt. John Sharp, I-12, Walker, crime
---
Posted on 1/24/2017 11:43:00 AM.
New Orleans officials have announced a plan to reduce crime in the French Quarter, but some are skeptical the $40 million proposal will be effective. Crime analyst and New Orleans native Jeff Asher is particularly uncertain of the new regulation that will require bars on Bourbon Street to close their doors at 3 a.m.
More
Jeff Asher, New Orleans, crime, Bourbon Street
---
Posted on 1/23/2017 6:07:00 PM.
New crime prevention measures will be put in place throughout the Crescent City and it calls for big changes on Bourbon Street. The announcement was made by New Orleans Mayor Mitch Landrieu, who says this $40 million plan will increase the flexibility of police manpower and improve crime deterrence.
More
Mitch Landrieu, Bourbon Street, New Orleans, crime
---
Posted on 12/22/2016 2:05:00 PM.
The Livingston Parish Sheriff's Office is taking part in a multi-agency investigation to bust criminals accused of robbing people after the August floods. They say, so far, a dozen suspects have been tied to multiple crimes including the case of a stolen trailer.
livingston parish, crime, flood victims, august floods
---
Posted on 11/28/2016 11:48:00 AM.
Officials in New Orleans are exploring ways they can make the streets safer following another deadly shooting on Bourbon Street over the weekend claimed the life of one person and injured 9 others. NOPD Chief Michael Harrison praised his officers for their response time, but admits more has to be done.
New Orleans Police, Michael Harrison, shooting, crime,
---
Posted on 2/2/2016 4:58:00 PM.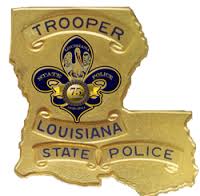 Governor John Bel Edwards announces they will continue to have "an elevated presence" of state troopers patroling New Orleans historic French Quarter. State Police Superintendent, Colonel Mike Edmonson, says a sales tax approved by French Quarter residents last October provides the funding to keep more troopers in the Big Easy
.
New Orleans, state police, Colonel Mike Edmonson, crime, Governor John Bel Edwards
---
Posted on 11/19/2015 10:34:00 AM.
Baton Rouge Police report a second man has been arrested in the slaying of an elderly Baton Rouge couple whose bodies were discovered at a Hammond truck stop last month. Lt. Johnny Dunham says 48-year-old Frank Garcia was arrested in Hollywood, Florida Wednesday.
crime, murder, Frank Garcia, Johnny Dunham, Denis Duplantier, Suzanne Duplantier
---
Posted on 9/28/2015 4:04:00 PM.
A 16-year-old is behind bars after wielding a shotgun while committing a series of armed robberies in the Uptown area, according to New Orleans Police. Mayor Mitch Landrieu spoke out about violence in the city and says he is dedicated to stopping this trend.
More
New Orleans, Mitch Landrieu, crime, teen, armed robberies
---
Posted on 9/14/2015 2:49:00 AM.
Senator David Vitter, who is also running for governor, has written another letter to New Orleans Mayor Mitch Landrieu, calling on him to come up with a written action plan, which addresses the crime problem in the city. So why is Vitter continuing to harp on this issue? ULM Political Science Professor Joshua Stockley says this in an intentional campaign strategy on Vitter's part to show Louisiana voters stopping violent crime is a priority.
More
David Vitter, Mitch Landrieu, New Orleans, governor, crime
---
Posted on 5/29/2015 1:15:00 PM.
In a bizarre incident, Baton Rouge Police report a man wielding an ax went after a police officer. Spokesman Cpl. L'Jean McKneely says officers responded to a call about 41-year-old Deandre Trahan walking around and attempting to burglarize homes.
Baton Rouge, police, ax, L'Jean McKneely, crime
---
Next Entry