Posted on 9/8/2017 5:21:00 AM.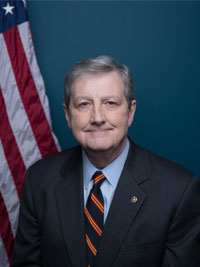 Both of Louisiana's US Senators voted to appropriate $15 billion in disaster aid for victims of Harvey, which nearly doubles what President Donald Trump requested. Junior Senator John Kennedy says this federal funding will help our neighbors grapple with the destruction Harvey left behind.
More
John Kennedy, Hurricane Harvey, FEMA, disaster aid,
---
Posted on 11/18/2016 1:37:00 AM.
The Restore Louisiana Task force meets today to discuss how they will distribute the first round of federal disaster aid for flood victims. Congress approved 438 million dollars worth of assistance for Louisiana.
More
Restore Louisiana Taskforce, disaster aid, Congress, Julie Baxter Payer
---
Posted on 9/22/2016 1:55:00 PM.
Michelle Southern reporting.
US Senator Bill Cassidy announced today that Louisiana has been included in a bill that contains $500 million dollars in federal disaster relief. The Governor requested $2.8 billion. Cassidy referred to the half billion as a down payment.
Bill cassidy, John Bel Edwards, #laflood, disaster aid
---