Posted on 8/4/2017 5:19:00 AM.
Researchers say bold new approaches need to be taken to shrink the dead zone in the Gulf of Mexico. Eugene Turner co-authored a report on the oxygen-deprived area that cannot support marine life. He says a lot of nitrate is coming down the Mississippi River from agricultural land use.
More
Eugene Turner, dead zone, Gulf of Mexico, farming
---
Posted on 7/1/2017 4:52:00 AM.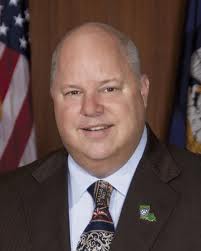 Farmers and ranchers who were impacted by last year's floods could be eligible for recovery grants. Ag Commissioner Mike Strain says the state has $10 million to help affected farmers. He says it is part of the $1.6 billion Congress appropriated for flood recovery.

"In order to qualify you have to be in one of the 51 parishes that was declared a disaster as a result of the flooding," Strain said.
More
Mike Strain, flood, flood recovery, grants, farming,
---